Know and do more, faster. ExtraHop + ServiceNow makes IT service management even more seamless.
Overview
Integrating real-time IT Analytics from ExtraHop with ServiceNow's best in class IT service management helps you streamline workflows, increase security, and speed up incident resolution by hours or even days.
Intelligent CMDB Meets Real-Time Analytics: ExtraHop + ServiceNow
Your ServiceNow Configuration Management Database (CMDB) is your first stop for visibility across your infrastructure, and with ExtraHop automatically discovering every device and application in real time, you'll have an effortless, self-updating map of all your IT resources.
From web and database servers to application versions and expired certificates, ExtraHop passively discovers everything communicating on your network and streams the information straight to your CMDB with no manual configuration needed.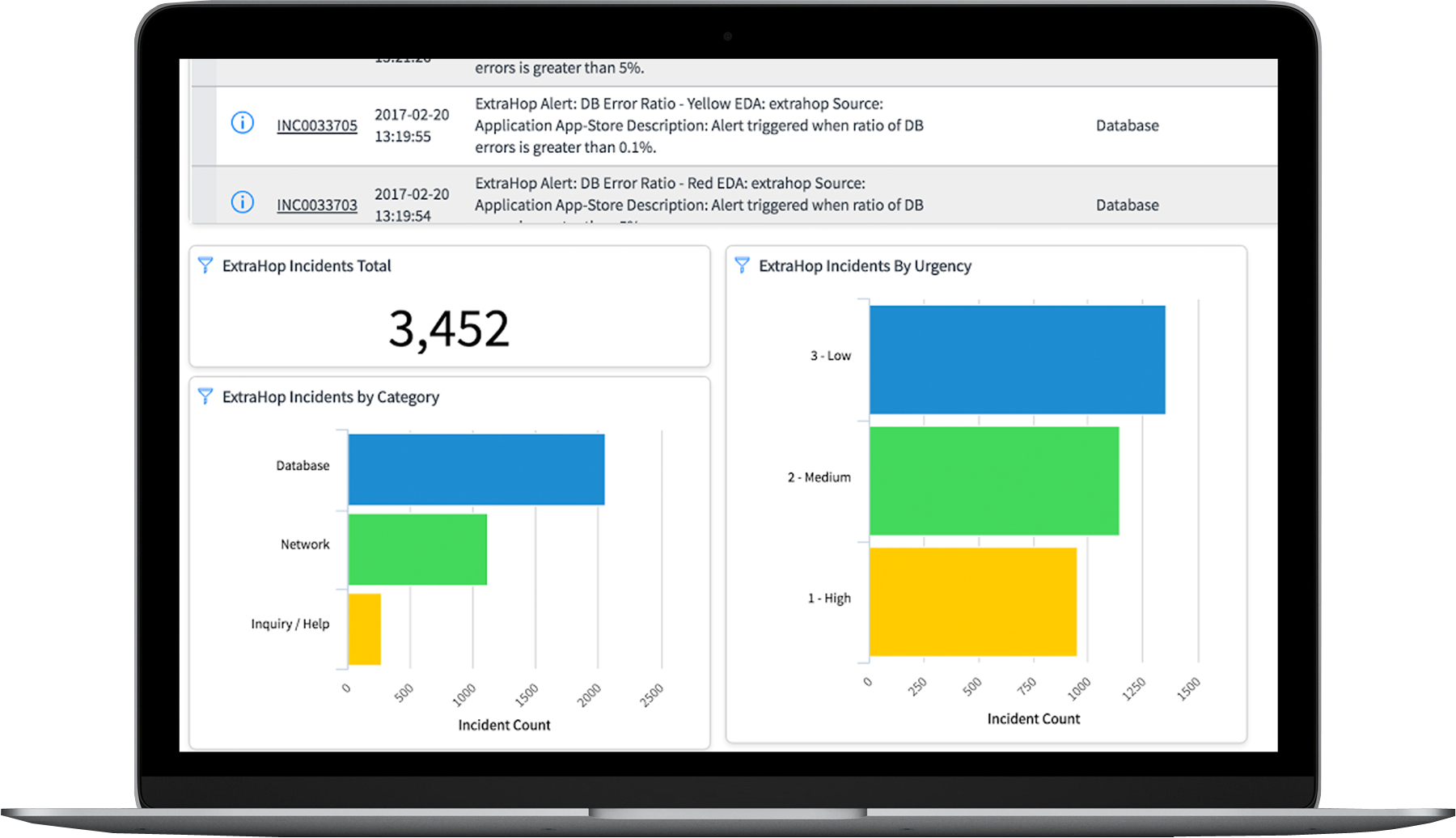 Key Features
Automate Inventory, Security, and Licensing Audits
Keep Your CMDB Up to Date Without Lifting a Finger
Give All Teams Real-Time Contextual Insight Across Your Enterprise
ServiceNow has played a critical role in IT transformation, improving service delivery and customer experience...ExtraHop takes IT Services Management to the next level, feeding ServiceNow with the richest source of insight into the performance, availability, and security.
Raja Mukerji
Chief Customer Officer & Co-Founder, ExtraHop
Event-Triggered Tickets and Workflows
ExtraHop alerts flag ServiceNow incidents—such as error rates for HTTP, DNS, and storage—and then use Open Data Stream to submit the ticket through the ServiceNow REST API.
Before the incident is assigned to an analyst, ServiceNow will prioritize the ticket by matching the affected asset against the CMDB. Even if you have a custom Configuration Item class hierarchy, ExtraHop can support your needs with a few simple triggers.
Stay on Top of Security Threats
Between ExtraHop's ability to analyze terabytes of streaming data in real time and ServiceNow's intelligent workflows, threat identification and remediation has never been faster! For instance, if ExtraHop detects ransomware activity, ServiceNow will automatically kick off a workflow so the security team can swiftly quarantine an infected client.
Investigate with Full Context
When you see a ticket from the ExtraHop platform in ServiceNow, you'll have the power to easily investigate the context and root cause down to the transaction details in ExtraHop, so you can act fast and solve problems proactively.
Supercharge Orchestration
Automate the remediation process with incident response workflows between ExtraHop and ServiceNow. Thanks to cross-tier insights, ServiceNow can more intelligently route events to the correct teams so they can troubleshoot quickly and efficiently. Read the Automated Response solution brief for details on incident response with ExtraHop.