Detect and stop ransomware, data exfiltration, and more with ExtraHop + Cisco.
Overview
Complementary solutions from Cisco and ExtraHop help you rapidly detect and contain threats such as ransomware, data exfiltration, and SQL injection, as well as optimize security policy enforcement and improve the performance of applications on-premises and in the cloud. Watch the video to learn how ExtraHop delivers complete east-west visibility and real-time anomaly detection to Cisco ISE, and read on to learn about integrations with Tetration and UCS.
Rapid Threat Response & App Analytics
ExtraHop integrates with Cisco Identity Services Engine (ISE) and Cisco Tetration in order to help you detect and respond to threats in real time, while also providing automated response workflows for maximum efficiency.
By adding complete visibility, real-time detection, and intelligent response from ExtraHop to your Cisco deployment, you can develop comprehensive, data-driven security policies and micro-segmentation plans while providing all teams with deep context and visibility across the application delivery chain.
Scroll down for details, as well as for information about how ExtraHop works with Cisco UCS and UCS-E to provide continuous, real-time application analytics that help you reduce troubleshooting time by 78 percent or more.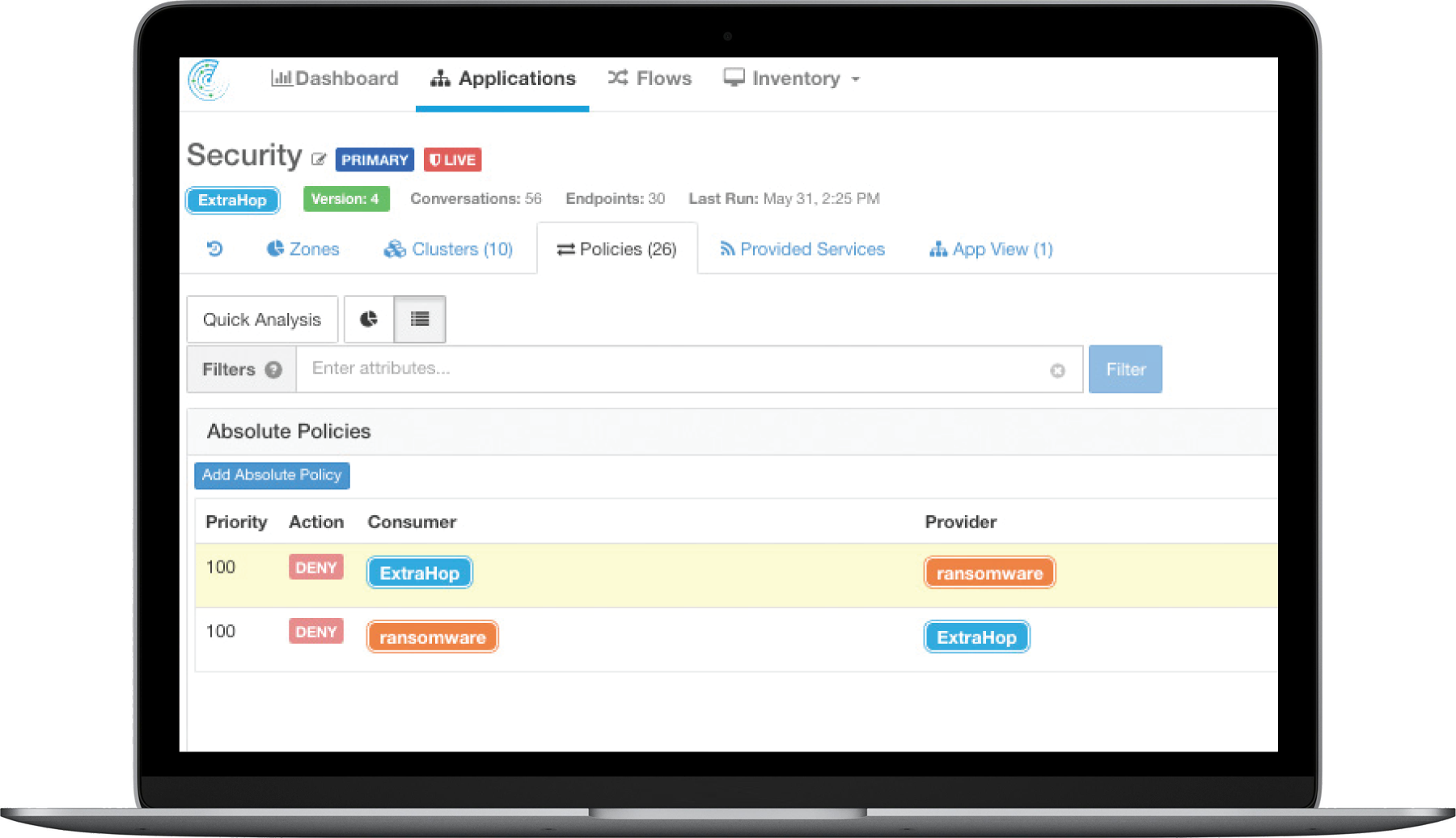 Key Features
Real-time threat detection & response
Full visibility from L2 to L7, including cloud traffic
Automated workflows for security & performance
The powerful combination of Cisco Tetration and ExtraHop provides customers with a high degree of network security and manageability. IT and security operations teams now have the visibility they need to understand the who, the what, and the where, and automatically enforce crucial security policies based on that real-time insight.
Raja Mukerji
Co-Founder & Chief Customer Officer, ExtraHop
Application Performance Monitoring for Distributed Environments
The Cisco UCS and UCS-E enable IT organizations to cost-effectively run mission-critical applications and core services at the branch office while centralizing other corporate applications in the datacenter. ExtraHop delivers real-time analytics across the application delivery chain, helping IT teams effectively monitor and manage the performance of the virtualized applications running on the Cisco UCS and UCS-E.
Deployed as a virtual appliance to the Services-Ready Engine (SRE) module of the second-generation Cisco Integrated Services Router (ISR G2), the EH1000v offers significant benefits to IT teams:
Simple Deployment
Discovers and classifies devices and applications automatically with no configuration required
Complete Application Visibility
Complements datacenter-based ExtraHop deployments for comprehensive visibility into application performance
Continuous, Real-Time Monitoring
Monitors all transactions at up to 100Gbps and extracts relevant health and performance metrics for the network, web, VDI, database, and storage tiers
Proactive Early Warning
ExtraHop sends automatic trend-based alerts for anomalous application performance behavior