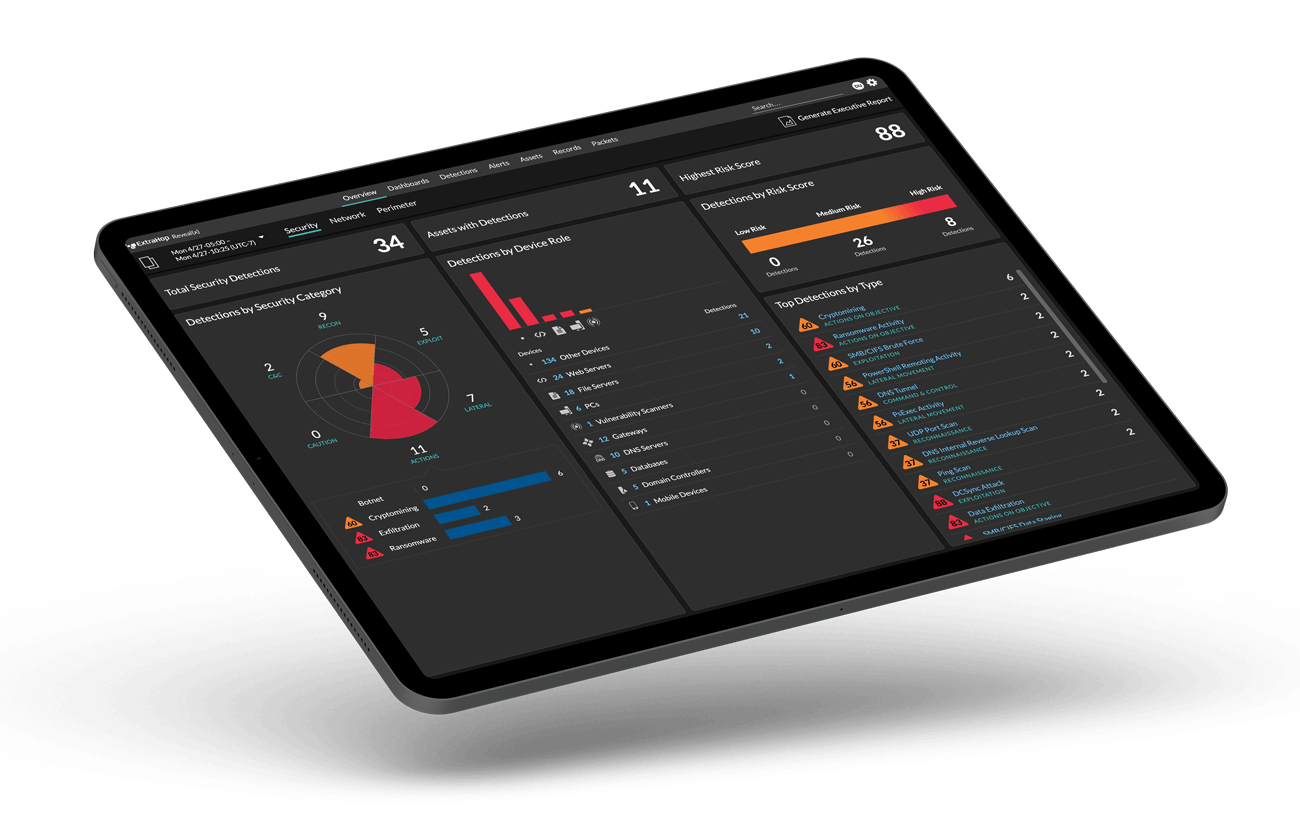 Reveal(x) 360
Defense Designed for Advanced Threats
Security Uncompromised
Reveal(x) 360 provides frictionless security that can't be undermined, outsmarted, or compromised. Key features include:
SaaS-based to deploy quickly and significantly reduce management burden

Single pane of glass for unified visibility, threat detection, and response across multicloud and hybrid environments

Cloud-hosted record store with 90 days of lookback

Intuitive investigation workflow helps users go from detection to forensics in clicks
Always-On Incident Response
The new realities of cloud and hybrid security in a post-compromise world prove the value of always-on incident response and forensics. Attacks evolve daily, and the number of advanced threats security teams must confront continues to rise.
ExtraHop Reveal(x) 360 brings the power of network packets to cloud and hybrid security, helping organizations detect advanced threats and respond to breaches up to 84% faster. With Reveal(x) 360, security teams can see every device, every workload, every user, everywhere—and detect and respond to threats anywhere—from a single management pane.
Comparing Reveal(x) 360
to ExtraHop Packet Basics
Reveal(x) 360 provides an expanded suite of security capabilities and cloud-hosted services not available in ExtraHop Packet Basics. Use the chart below to compare.
| Features | Reveal(x) 360 | ExtraHop Packet Basics |
| --- | --- | --- |
| Event-driven Incident Response | | |
| Always-on Incident Response | | |
| Advanced Threat Detection | | |
| Global Threat Intelligence | | |
| Cloud-Scale ML Analysis | | |
| ExtraHop-managed Record Store with 90-day Lookback | | |
| One-Click Investigation | | |
| Decryption & Decoding | | |
| Identity & Access Management | | |
| Cybersecurity Services | | |
| Threat Hunting | | |
| Dependency Mapping | | |
| Inventory & Configuration | | |
| Control plane for unified security (hybrid and multicloud) | | |
| Asset & User Discovery | | |
| Integrates with SIEM, SOAR, EDR, NAC | | |