Cloud-Native Network Detection and Response
Secure and control cloud workloads with complete visibility, real-time threat detection, and intelligent response from ExtraHop, plus automated threat response across cloud and on-premises environments. AWS customers can choose between two solutions: Reveal(x) Cloud, a SaaS-based platform managed and provisioned by ExtraHop, and Reveal(x) AMI, a virtual appliance deployed in the customer's Amazon Virtual Private Cloud.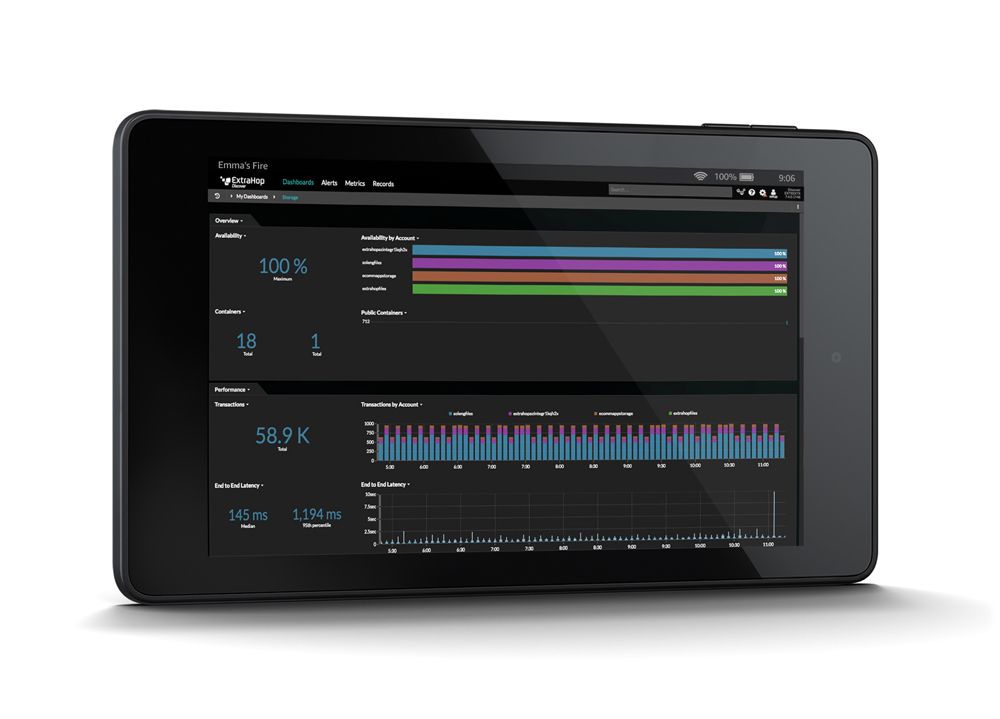 How ExtraHop Works in AWS
Reveal(x) Cloud natively integrates with Amazon VPC Traffic Mirroring to provide an agentless network detection and response (NDR) solution for managing and securing workloads across EC2, RDS, S3, ELB, and more. With customizable response automation capabilities, you set the policy and Reveal(x) Cloud helps stop the threat. With cloud-native continuous packet capture (PCAP), Reveal(x) Cloud security operations teams to go from detection to network forensics by looking at associated packets in a matter of clicks, keeping investigations fast and focused.
---
Automated Response with Limitless Possibilities
Get the fast remediation you need to keep up with threats in the cloud. Reveal(x) Cloud features an automated response integration that supports quarantining compromised AWS workloads to stop threats as soon as they're detected. This bi-directional integration enables Reveal(x) Cloud to automatically import AWS metadata, enabling a wide range of response automations based on your security policies.
Complete Visibility
---
Improve hygiene and mitigate risk with immediate and continuous auto-discovery and classification of all workloads across hybrid attack surfaces. Understand relationships and control applications with automatic dependency mapping powered by cloud-scale machine learning. See everything with passive monitoring of all east-west traffic, including SSL/TLS 1.3 encrypted communications.
Real-Time Detection
---
Automatically track rogue instances and eliminate risks created by misconfigurations, insecure APIs, and unauthorized access with machine learning-powered behavioral detections and high-fidelity alerts. ExtraHop analyzes all cloud transactions by leveraging Amazon VPC traffic mirroring to identify threats and anomalous behaviors as they happen.
Intelligent Response
---
Shave hours or days off your time to resolve threats with guided workflows that automatically complete the beginning stages of investigations to provide analysts with actionable insights in clicks. Leverage our simple and intuitive UI to analyze everything from security incidents to infrastructure performance to end-user experience.
Cloud-Native Integration
---
Expand your existing security capabilities and reduce tool sprawl by integrating ExtraHop wire data with AWS CloudTrail, Amazon CloudWatch, Amazon VPC Flow Logs, and more. Enhance the efficacy of ticketing and automated response tools by customizing triggers based on accurate ExtraHop detections.
With Reveal(x) Cloud, ExtraHop is delivering a purpose-built solution designed to enable AWS customers to take full advantage of network traffic for better cloud visibility, detection, and response.
Dave Brown
Vice President, EC2 Compute & Networking Services, Amazon Web Services, Inc.