QRadar from IBM

Catch Unknown Threats Faster and Transform your Security Operations
Combining behavioral network data analysis and activity logs delivers faster detection and more confident response. Transform your security operations center by integrating ExtraHop Reveal(x) network detection and response with your SIEM from IBM Security QRadar. Download the integration datasheet to learn more.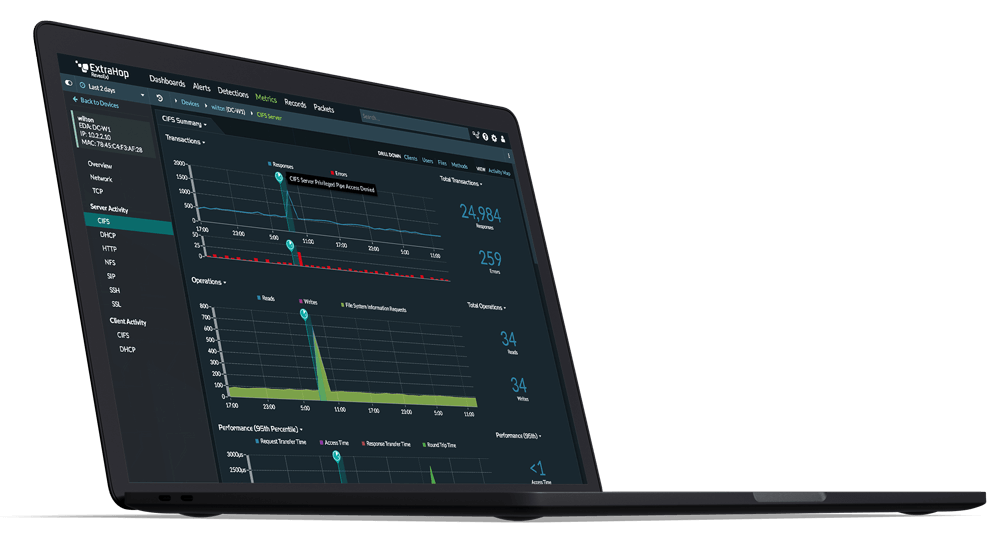 Detect Unknown Threats Faster
Leading SIEM providers such as IBM Security QRadar recommend that SecOps teams use network detection and response (NDR) to augment their activity log data sources to increase their visibility and accelerate detection of unknown threats. ExtraHop Reveal(x) delivers covert network monitoring that can't be altered or evaded by attackers.
Integrating Reveal(x) NDR with your SIEM enables you to correlate network- and log-based detections to detect more unknown threats, prioritize the threats that are worth investigating, and detect and respond to threats other tools miss.
Use
Cases
Catch Unknown Threats
---
Reveal(x) NDR parses, decrypts, and analyzes real, observed network traffic to detect and respond to unknown threats 84% faster.
Shadow IT
---
Reveal(x) discovers and monitors unmanaged devices and SaaS service traffic to provide complete asset inventory and full-coverage monitoring, even for devices that can't be logged.
Incident Response & Forensics
---
Advanced threats know how to delete activity logs before they reach the SIEM. Reveal(x) NDR delivers forensic data that can't be tampered with or deleted, for rapid, confident investigation and response.
Real-Time Response
---
Using early detections from Reveal(x) NDR to trigger automatic quarantines of infected devices can stop an attacker from achieving a full-scale breach of your data.
MITRE ATT&CK
---
SIEM and NDR are two vital data sources for complete MITRE ATT&CK coverage. Add Reveal(x) NDR to your lineup to detect more post-compromise attacker tactics. Learn more from our MITRE ATT&CK blog post.
How It Works
ExtraHop Reveal(x) requires no agents and integrates with QRadar SIEM out of the box. Built for speed and scale, Reveal(x) passively analyzes every packet that flows across your enterprise at a sustained 100 Gbps. Reveal(x) streams machine learning-driven threat detections with deep context straight to your QRadar interface, and allows you to sort events by title, risk score, and update time, plus drill down into specific events and easily take advantage of guided investigation workflows (details in this datasheet) in Reveal(x).