Supercharge Your Security with ExtraHop For QRadar
The combined power of network detection and response and historical data from logs is a linchpin for any successful security team. Power up your QRadar Enterprise Security Information and Event Management (SIEM) with streaming threat detections from ExtraHop Reveal(x). Download the integration datasheet here.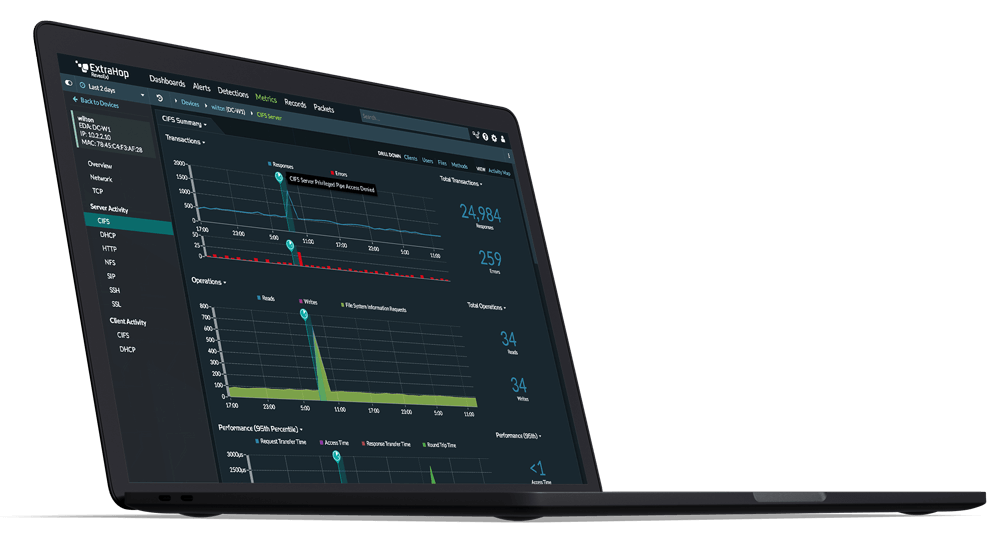 See More. Protect More.
Leading SIEM vendors like IBM QRadar recommend SecOps teams use network detection and response to augment log data sources and increase their overall visibility into their most critical assets. NDR tools like ExtraHop Reveal(x) are founded on wire data, which, unlike logs, can't be compromised by attackers.
For large enterprises or those growing rapidly, capturing and effectively using logs for security purposes is a challenge. Adding Reveal(x) network detection and response to your QRadar SIEM not only helps you prioritize which threats are worth investigating, but also allows you to detect and respond to potential threats that other security tools miss. Unpack the value of this integration with ExtraHop engineers in this blog post.
Use
Cases
Compliance Reporting
---
Use ExtraHop to supply QRadar with information not available from log sources, thereby generating more complete, comprehensive, and actionable compliance reports.
Shadow IT
---
Use ExtraHop to capture data from unreported public SaaS or on-prem applications and forward to QRadar for analysis.
Incident Response & Forensics
---
Forward a minimum required subset of data to QRadar for analysis while preserving complete records on ExtraHop for incident response and forensics if needed. Read the Response Automation white paper for details.
Real-Time Response
---
Use ExtraHop triggers to instantly take action (e.g. quarantining malware infected devices via a workflow orchestration platform) where a response can't afford to be delayed by QRadar index and search operations.
SIEM Optimization
---
Optimize QRadar license and resource utilization by using ExtraHop to filter out low quality data in real time before it is sent to QRadar.
How It Works
ExtraHop Reveal(x) requires no agents and integrates with QRadar SIEM out of the box. Built for speed and scale, Reveal(x) passively analyzes every packet that flows across your enterprise at a sustained 100 Gbps. Reveal(x) streams machine learning-driven threat detections with deep context straight to your QRadar interface, and allows you to sort events by title, risk score, and update time, plus drill down into specific events and easily take advantage of guided investigation workflows (details in this datasheet) in Reveal(x).
The Integration in Action
Watch this short video to learn how Reveal(x) and IBM QRadar work together for faster, more efficient threat detection and response.
Ready to take advantage of the powerful integration between Reveal(x) and QRadar SIEM? Download the ExtraHop Detection SIEM Connector and the app for QRadar now: