As a young-ish B2B tech company in a hyper-competitive market, ExtraHop has always placed an emphasis on customer satisfaction. In fact, it's how we measure the success of our platform. In other words, if our customers are truly happy, we must be doing something right. So we were thrilled when a TechValidate survey of our customers resulted in a Net Promoter Score (NPS) of 66!
Without diving into the minutiae of how NPS scores are calculated, just know that TechValidate's calculation comes from customers being asked, "Would you recommend ExtraHop to a friend or colleague?" Any score above 50 is considered "excellent." In fact, a score of 66 puts us ahead of many large tech companies, including some of our competitors.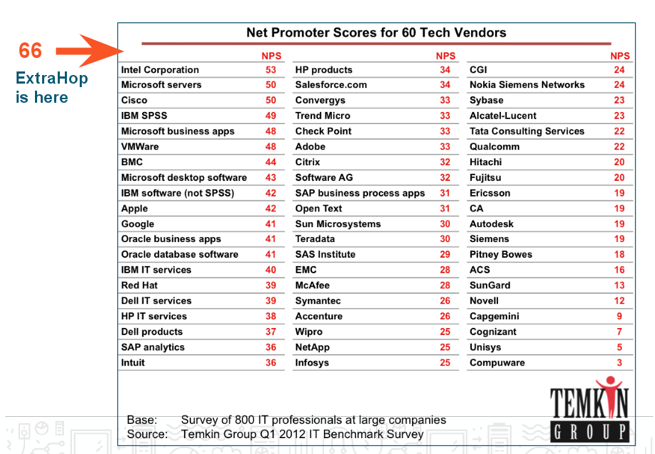 For a more universal comparison, an NPS score of 66 would put us in the same category as many of the companies commonly celebrated for customer satisfaction, including Amazon and Southwest Airlines.
Rewards are gratifying. So is good press. But no accolade can measure up to the voice of the customer. This validates that our efforts have been effective so far, and gives us motivation to continuously innovate and refine, from our platform features to our support offerings.
We'll be sharing more of the overwhelmingly positive results from our survey in the coming weeks, but for now, we'll let a few of our customers take over…
Fantastic product. Provides instant value right out of the box.

IT Director, Global 500 Telecommunications Services Company
The range of the product is broad, customer support is excellent and (ExtraHop) show continued growth and adaptation for their customer's needs.

System Administrator, Leading Financial Services Solutions Provider
ExtraHop is intuitive and has, hands down, the best & most responsive support team that I've ever dealt with!

Network Administrator, Leading Health Insurance & Services Provider