Atlas reports help you proactively resolve issues and drive continuous improvement in your IT operations and throughout your business.
Atlas Remote Analysis
When you buy Atlas Remote Analysis services, our analysts perform an unbiased analysis of your data to identify areas in your IT infrastructure where improvements will pay big dividends. For as long as you subscribe, we send you a monthly report with our professional analysis of your data, including clear visualizations of trends in your environment, and specific recommendations on how to secure and optimize your system.
Atlas Report Benefits
Assurance that you never have to worry that you are missing something important your data is trying to tell you.
Diagnose chronic issues, so you can fix them before they become a bigger problem.
Help you identify opportunities for tuning your environment to work more smoothly and efficiently.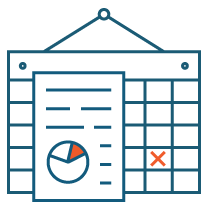 Learn more about Atlas Remote Analysis