Reveal the Unknown.
Unmask the Attack.
Black Box Experience Begins 8.9
BOOTH #1540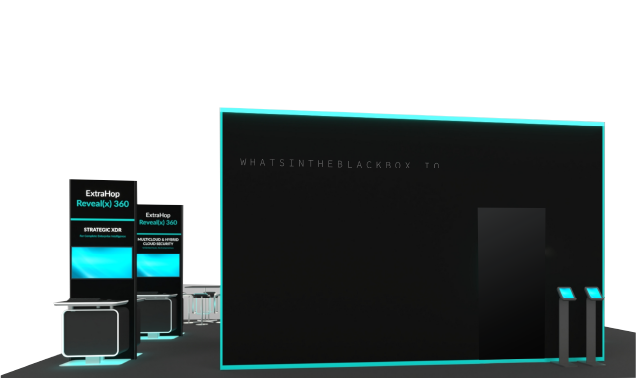 In-Booth Sequence:
See what's in the black box.
Experience a Reveal(x) demo.
Share your experience.
Unlock the reward.
Demo Reveal(x) Now:
Can't wait? Get started with our self-guided demo
to see how Reveal(x) can help you see more,
know more, and stop more cyberattacks.
www.extrahop.com/demo
Unlock the Box.
Beat the Clock.
Challenge
Harness the power of ExtraHop Reveal(x) 360 and CrowdStrike Falcon to stop a Kerberos golden ticket attack. Earn points toward winning an Xbox Series X by completing tasks. The clock is ticking—are you up for the challenge?
15-minute challenge
Real data. Real attacks.
Play to Win an
Xbox Series X
The Law vs. Ch@os
In 1999, retired FBI agent Mark Bowling was investigating a series of physical attacks on a Wisconsin energy company's electrical power distribution centers. As his investigation unfolded, Bowling discovered that the person responsible for the attacks – who went by "Dr. Ch@os" (née Joseph Konopka) – was ultimately connected to a total of 86 acts of vandalism and arson in Wisconsin, 20 of which qualified as terrorist acts, in addition to a variety of cybercrimes, including hacking, cyber sabotage, intellectual property theft, and selling counterfeit software.
In this fast-paced presentation, Bowling will reprise his role as an FBI agent while Jamie Moles plays the part of an unethical hacker. They'll share insights that can help security professionals investigate malicious activity on their networks today. You'll learn how to conduct an investigation from the physical to cyber realms, across networks, and through diverse data sets, as Bowling and Moles take you through the Konopka case to demonstrate the role that intelligence, digital forensics, and interrogations played in helping law enforcement find Konopka before he could carry out a potentially deadly chemical attack on the Chicago subway.
Mark Daniel Bowling
Chief Information Security
and Risk Officer, ExtraHop
Jamie Moles
Senior Manager -
Technical Marketing, ExtraHop
DETAILS:
Wednesday, August 9 2023
4:10 - 5:00 PM
Session Code: Part4-W09
Join Us
Come to the ExtraHop Magic Mixer!
Can you trust what you can't see?
Join headlining entertainer John Rotellini as he reveals what else is in the black box. You'll be amazed with his sleight of hand magic, mind reading and illusions - showing the impossible is possible!
Grab one of our specialty drinks as we're sure you'll be left speechless. Hope to see you there!
Be sure to stop by our booth prior to 2pm on Thursday to pick up a wrist band for event access. Limited spots available, reserve yours with us onsite!
John Rotellini
Thursday, August 10th
2-3pm - ExtraHop Booth #1540
Day One - Wednesday, August 9th
10:30am
-
Zero Trust in the Enterprise Space
11:00am
-
Understanding the Common Information Model - A Benefit of the XDR Alliance with Exabeam
11:30am
-
Empowering XDR: Unifying Endpoint and Network Protection with CrowdStrike
12:00pm
-
How Deep Observability Exposes Unseen Threats with Gigamon
12:30pm
-
Threat Hunting in Network Traffic
01:00pm
-
Defending Against Advanced Attacks in the Cloud with AWS
01:30pm
-
Securing the Future: Safeguarding Against Generative AI Cybersecurity Threats
02:00pm
-
Simplifying Security Operations in Today's Hybrid, Multi-Vendor, Multi-Threat Landscape with Cisco
02:30pm
-
Effortless XDR Integration
03:00pm
-
Cribl Stream Brings Any Record Store to ExtraHop
03:30pm
-
Insights into Today's Top Cybersecurity Trends and Attacks with Mandiant
04:00pm
-
Shaping the Battlefield Through Asset Visibility and Data Enrichment with ServiceNow
04:10pm
-
ExtraHop Sponsored Speaking Session: The Law vs. Ch@os
04:30pm
-
Zero Trust in the Enterprise Space
05:00pm
-
Threat Hunting in Network Traffic
05:30pm
-
Classified Threat Detection for Unclassified Networks with ViaSat
06:30-09:30pm
-
CrowdStrike Customer Event at Eyecandy
Day Two - Thursday, August 10th
10:30am
-
Packet Visibility: The Foundation of the Security Infrastructure
11:00am
-
Meaningful Security Monitoring with Binary Defense
11:30am
-
Securing the Future: Safeguarding Against Generative AI Cybersecurity Threats
12:00pm
-
Accelerate Your PoCs with WWT Advanced Technology Center
12:30pm
-
Ransomware Defense Strategies
01:00pm
-
Zero Trust in the Enterprise: Why Zero Trust and Why Now?
01:30pm
-
Empowering XDR: Unifying Endpoint and Network Protection with CrowdStrike
02:00-03:00pm
-
ExtraHop Magic Mixer
03:00pm
-
Effortless XDR Integration: Unlocking Seamless Protection Across Your Environment
03:30pm
-
Threat Hunting in Network Traffic