5 Questions Every Network Team Should be Able to Answer

Are you sure your teams are focusing on what matters?
Eight out of ten IT teams rely on users to let them know there's a problem. What if you had someone able to detect and alert you to anomalies in real time?

Are your decisions based on expired information?
The value of tactical data decreases by 70 percent after 30 minutes. If PCAP analysis takes half an hour or longer, you're working with bad information. You need a faster path to insight.

How can you keep yourselves out of the war room?
Tired of the network being the go-to scapegoat? Wire data delivers instant, accurate analytics everyone can understand and benefit from, leaving no room for finger-pointing.

Can your infrastructure and budget scale to support perpetual data growth?
At the rate data volumes are growing, traditional means of packet capture will soon be impossible. You need the ability to scale—both vertically and horizontally—to keep up.
How will you protect the business and close the security visibility gap?
Most organizations can't see or track east-west traffic, where all malware travels. Wire data fills that visibility gap so you can detect anomalous behavior such as ransomware.

---
Learn the Facts
Are you the right kind of data-driven?
100+ Senior level system applications and infrastructure executives participated in a survey that provided interesting answers to why data-driven IT drives competitive advantage in the network performance monitoring industry.
A New Approach – Rethink the Network
The network is more than transport; it's THE common dominator in a services world. From business data to information security, application performance to operations, the network offers unmatched insight.

An Analytics-First Approach
How much more effective would you be if you could detect issues as they happen instead of after the fact? Continuous, real-time analysis means you'll know when there's a problem immediately—and you'll have the context to take action.

A More Productive IT
There is so much happening in your IT environment that it can seem overwhelming. Imagine you had a partner that never slept, remained vigilant, and identified real problems instead of bombarding you with false alerts.

Driving Beyond Break/Fix
With more moving parts located in more places, it's no surprise that outages of business-critical applications regularly make news headlines. Downtime can be catastrophic. Real-time, continuous network monitoring helps ensure consistent service delivery across the whole environment.

Comprehensive Network Visibility
Monitoring your environment from L2 to L7 gives you broad and deep visibility. When you're able to see all the east-west traffic as well as the north-south traffic, you can spot and react to threats and issues as they're happening.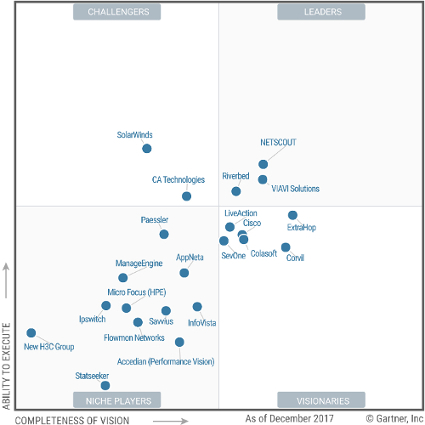 The Pioneers in Wire Data
ExtraHop debuted in the Gartner NPMD Magic Quadrant furthest to the right for completeness of vision, a placement we believe reflects our game-changing approach to real-time IT analytics. Read the MQ and Critical Capabilities reports.
Net Ops 2.0: Embrace Network Automation
Read on to learn about Gartner's recommendations for how Network Operations teams can better support digital business, with an emphasis on network analytics and automation as central to success.

Download Report
See ExtraHop in Action
Explore the interactive demo to see how quickly you can find insights that move your IT environment—and your business—forward.