Download the White Paper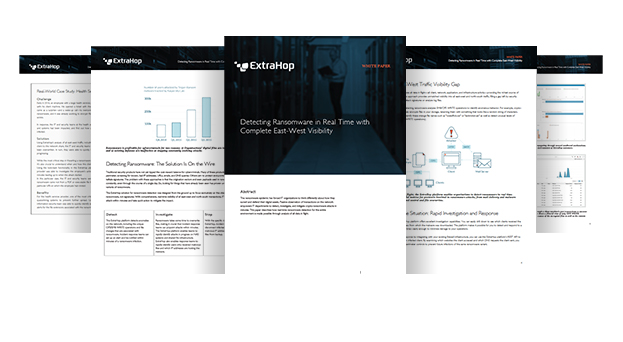 The ransomware epidemic is forcing IT to think differently about how they surveil and defend their organization's digital assets.
To effectively identify and control ransomware, organizations need real-time visibility into communications within their networks (east-west traffic), not just what crosses the perimeter (north-south).
With knowledge handpicked from real-world observations and testing, this paper offers practical and prescriptive guidance on how in-flight data analysis from ExtraHop gives you the power to detect and mitigate ransomware within minutes.
Learn why observing behavior inside the network is more effective than signature-based methods for detecting ransomware
Take control of ransomware with unparalleled investigation capabilities; Learn how you can identify which clients received the malicious file and how to find and block the IP address from which the malware was downloaded.
Discover how one health-services provider's IT team leveraged ExtraHop to identify and isolate compromised systems quickly, and avoid paying a ransom.
Access an ever-expanding base of ExtraHop users to see how others in your field are building a real-time library of security-focused solutions.