There's untold value in your data, waiting to be liberated. And there's no single analytics process or provider that can do it alone.
At ExtraHop, we believe there are four data sources that, when used in tandem, can provide the best possible IT infrastructure visibility. Using an open IT Operations Analytics approach to merge wire data, machine data, agent data, and synthetic data is the only way to succeed in the increasingly complex future of IT. This is why we created Open Data Stream, allowing you to send your data from ExtraHop to many of the industry's most popular data stores, querying tools, and analytics platforms, so you can:
Uncover valuable business insights by merging data from multiple sources in a non-proprietary, highly scalable data store such as MongoDB or Elastic.
Strengthen your security operations with the ability to detect advanced, persistent threats by merging ExtraHop's performance analytics with security solutions, such as FireEye's Threat Analytics Platform.
Enhance your monitoring capabilities by combining wire data from ExtraHop with machine data and agent data. Open Data Stream gives you complete visibility into your network and applications at every layer.
Enrich Your Business Intelligence
An individual metric, examined in isolation, means nothing. Context and correlation are where the value lies in datasets of any size. We think the the same axiom applies to datasets from different sources, and ExtraHop's Open Data Stream makes it easier than ever to merge data from disparate sources into a single, rich set that can be queried and visualized using your preferred tools. Read about our integrations with Elastic, Firemon, jSonar, and MongoDB.
Enhance Your Security Operations
Open Data Stream allows you to increase the effectiveness of your firewall, especially if you're using FireEye's Threat Analytics Platform (TAP). Through Open Data Stream, ExtraHop sends the following crucial events and metrics to the FireEye TAP:
DNS activity including domain lookups and possible command-and-control attempts
HTTP payload data, including MD5 sums and threat signatures
Unexpected SSH connections from external clients, and other session data
The integration of ExtraHop and FireEye allows IT and SecOps teams to stop reacting to data breaches and start proactively preventing them.

Achieve Complete Visibility
ExtraHop's Open Data Stream allows you to correlate wire data and machine data for clear visibility into transactions happening between every device on your network. Merging data from ExtraHop and AppDynamics gives you unprecedented real-time visibility into your apps and infrastructure.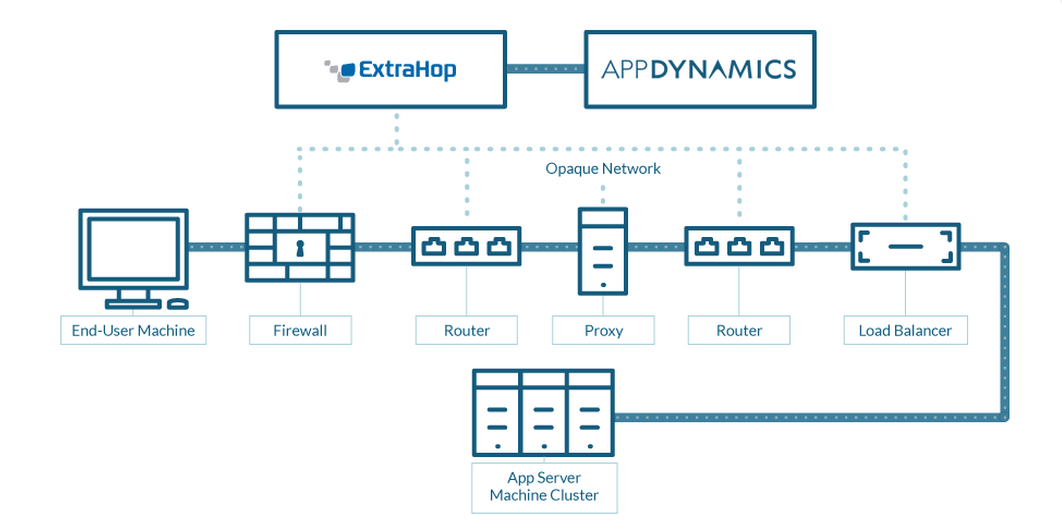 Open Data Stream is for Everyone
We think you should be able to use your data however you want to, and we're continually adding more integrations to Open Data Stream to make sure that ExtraHop works with the tools and platforms that matter to our customers.
When you tap into all four data sources crucial to open ITOA, the potential business value is limitless, and Open Data Stream is making it easier than ever. Visit our Technology Partnerships page to learn more about our integrations.