---
ExtraHop 6.0 delivers the industry's first top-down workflow transforming the network from basic transport into the richest source of real-time insight. We cut the complexity of legacy point solutions to deliver the results your business requires. Solve problems in a matter of clicks, not hours or days.
The ExtraHop 6.0 workflow breaks down into three simple steps: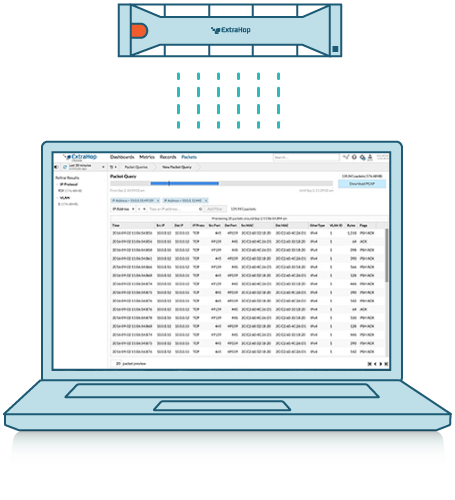 1
Discover the Entire Picture
Gain a comprehensive, global, and real-time view of every wire-data transaction including application payloads, devices and network.
2
Explore Every Interaction
Get an indexed, searchable view of every wire-data transaction.
3
Trace Down the Details
Drill down to, or begin with, individual metrics, users, devices, or packets associated with a transaction.
This new workflow will make a world of difference, right where it matters
Rapid Service Delivery/Restoration
When you're just five clicks away from the individual metrics, users, devices, or packets that are causing trouble, restoring service before it dings customer experience gets a lot faster.
Proactive Security Incident Responses
Detect suspicious behavior in real time, and locate compromised systems and threat vectors before they turn into major problems.
Optimal End User Experience
Ensure that your systems are always operating, as they should to avoid incidents where customers notice degradation before you do.
Alignment across IT and the Business
Use the data flowing through your network to strengthen and differentiate your core business opening up new paths to revenue.

See the Workflow in Action
Watch this short video to see exactly how ExtraHop Trace takes the process of finding the packets you need from an hours-long ordeal to a few clicks.
The new functionality introduced in ExtraHop 6.0 changes the game for IT performance monitoring of the digital infrastructure, flipping the traditional workflow on its head to create a more scalable, agile model.
Steven Kornfeld VP of Corporate Alliances, Presidio
Learn More About ExtraHop 6.0
What's New in ExtraHop 6.0?
More Resources