We're offering this assessment for free to qualified potential buyers. Let's be honest here: we want you as a customer. But first, we want to prove our value to you. We're offering this at no charge because we're certain that as soon as you see the power of our platform, you won't want to give it back.
You've got nothing to lose.
At the end of the assessment, we'll deliver a full report on up to 14 key aspects of your IT environment, packed with actionable insights you can use to fix, improve, and optimize your environment immediately.
The value doesn't have to stop there. Need a longer assessment or a little more hands-on engagement? We offer in-depth paid assessments at great prices too.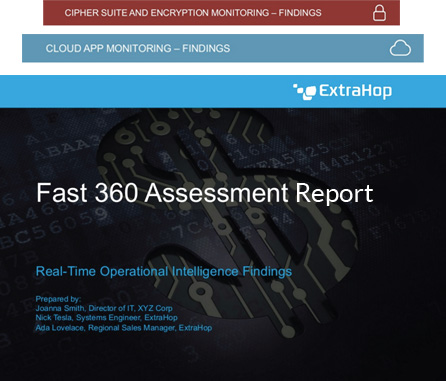 The Fast 360 Assessment is perfect for:
IT Operations teams
who want to unify and correlate data from all their systems, gain total visibility, and reduce the number of tools they rely on.
Network teams
who want to stop being blamed for application performance problems, so they can skip the war room and find the fix, fast.

Security teams
who want to know the who, what, when, where, and why of everything connected to their IT environment.
Application teams
who want to ensure top performance & know exactly how users experience their applications, to optimize for impact.

Asset Discovery & Mapping

Citrix Performance Monitoring

Continuous Security & Compliance Monitoring

Triage & Troubleshooting

Network Performance Monitoring & Management

Physical-to-Virtual (P2V) & Cloud Migrations

"This is the most amazing, accurate data that I have ever seen presented to us by a vendor about our infrastructure in such a short amount of time. In the past we have paid tens of thousands of dollars to outside contract vendors to do less than a 10th of what you have shown us."
Sean Johnson
IT Professional
Fortune 500 Financial Services Organization
The Fast 360 Assessment is as simple as our platform:
1
---
We'll visit you and consult with your team on what problem areas or opportunities for improvement you have. Once we're sure we know exactly how to provide maximum value, we'll install ExtraHop.
2
---
Our certified IT badasses will provide
guidance on which parts of your environment have the most potential for business-changing insights and operational improvement.
3
---
We'll deliver a concise report on the state of your environment, with prescriptive recommendations for how you can improve performance, efficiency and security in up to 14 vital IT domains.
Let's get started
Let us know you are interested by filling in the info below or giving us a call at (206) 317-0090 ext. 202 (We'll never sell or share your info.)