Description
Introduction
Heatmaps show processing time over time and are a great way to hunt slowness at the HTTP and DB tiers.
Here is an example: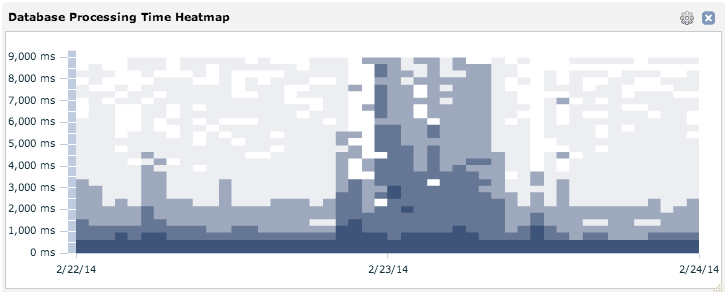 Heat maps are easy to read.
The vertical axis is processing time independent of the network (1,000 ms is one clock second). The horizontal axis is plotted over time. The image above shows two days, the 22nd and 23rd of February. The blocks indicate clumps of processing time, with the darker the block indicating a heavier concentration of datapoints.
Just by looking at the Heatmap, we can see that something went sideways on the evening of the 22nd when most database transactions went from under 1,000 ms (1 second) to upwards of 9,000 ms (9 clock seconds).
Purpose
This simple bundle contains a single page that shows heatmaps for the HTTP and DB processing time of any ExtraHop Application.
Installation Instructions
Download the bundle.
Apply the bundle.
Assign the page "Sample Heatmap for DB and HTTP" to the ExtraHop Application(s) of interest.
Drill into an Application, you should see the page listed in the control tree in the upper left.
Click the page.
Just as with other ExtraHop charts, you can click and drag to adjust the time window to do cross-tier event correlation.
Note: For help getting started with ExtraHop Applications, check out this bundle.