Description
AWS offers many advantages to enterprise IT teams, from dynamic and agile deployment to a high-availability, global infrastructure. With ExtraHop for AWS, organizations can gain unprecedented visibility across their AWS application delivery chain, utilizing ExtraHop's ground breaking wire data analytics to monitor their AWS environment in real-time and optimize the experience for their end users. AWS customers can now supplement CloudWatch machine data like CPU and memory usage with full L2-L7 analysis, gaining visibility into key performance indicators like application latency, EC2 processing time, RDS methods, and per-bucket S3 file access. The holistic visibility provided by ExtraHop will enable businesses of all sizes to:
Better and more confidently plan their cloud migration strategy
Optimize their AWS deployments for performance and cost
Monitor potential security concerns
Evaluate expansion into new AWS services
Gain a common view across their on-premises environment and AWS
This AMI works in conjuction with the ExtraHop for AWS: Regions and AZs solution bundle and the ExtraHop AWS Connector for total AWS visibility.
Watch a video walkthrough of the bundle here!
What You Get:
Dashboards (3):
AWS - EC2 Dashboard
AWS - RDS Dashboard
AWS - S3 Dashboard
Alerts (3):
Amazon S3 SLA Agreement
AWS ScaleDown - Process Time
AWS ScaleUp - Process Time
Triggers (6):
AWS - EC2
AWS - Elastic LB
AWS - RDS
AWS - S3
AWS - Network
AWS - Network (TCP)
Custom Pages (7):
AWS - EC2 Overview
AWS - Elastic Load Balancer (ELB)
AWS - RDS
AWS - S3 Overall Activity
AWS - S3 Bucket Level Activity
AWS - S3 Device Level Activity
Dynamic Groups (3):
HTTP
DB
DNS
Geomaps (1):
AWS - EC2 Outbound Traffic
Screenshots:
EC2 Dashboard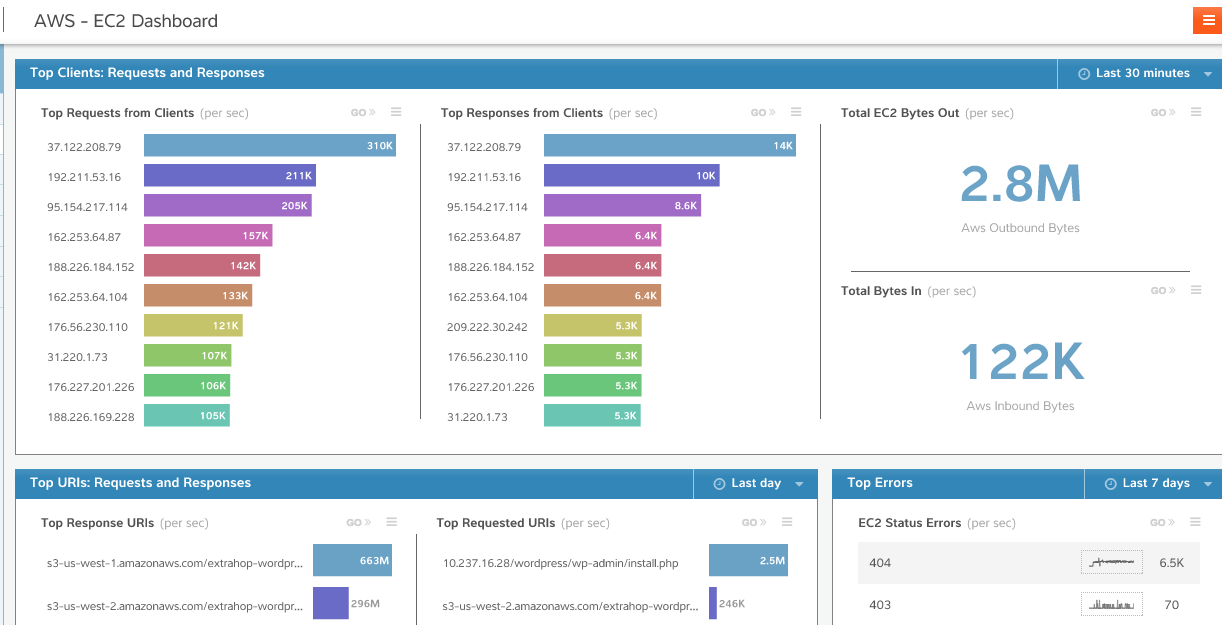 S3 Dashboard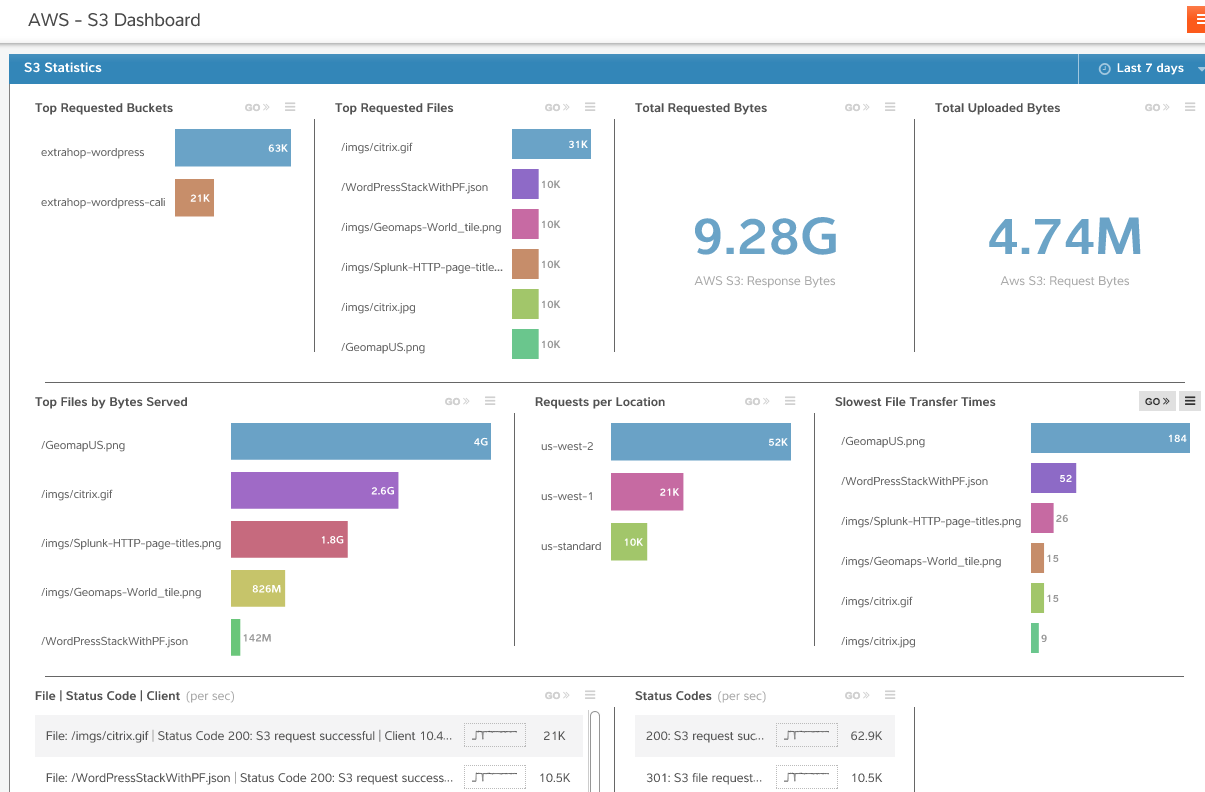 AWS EC2 custom page breaks out key performance metrics
EC2 Custom Page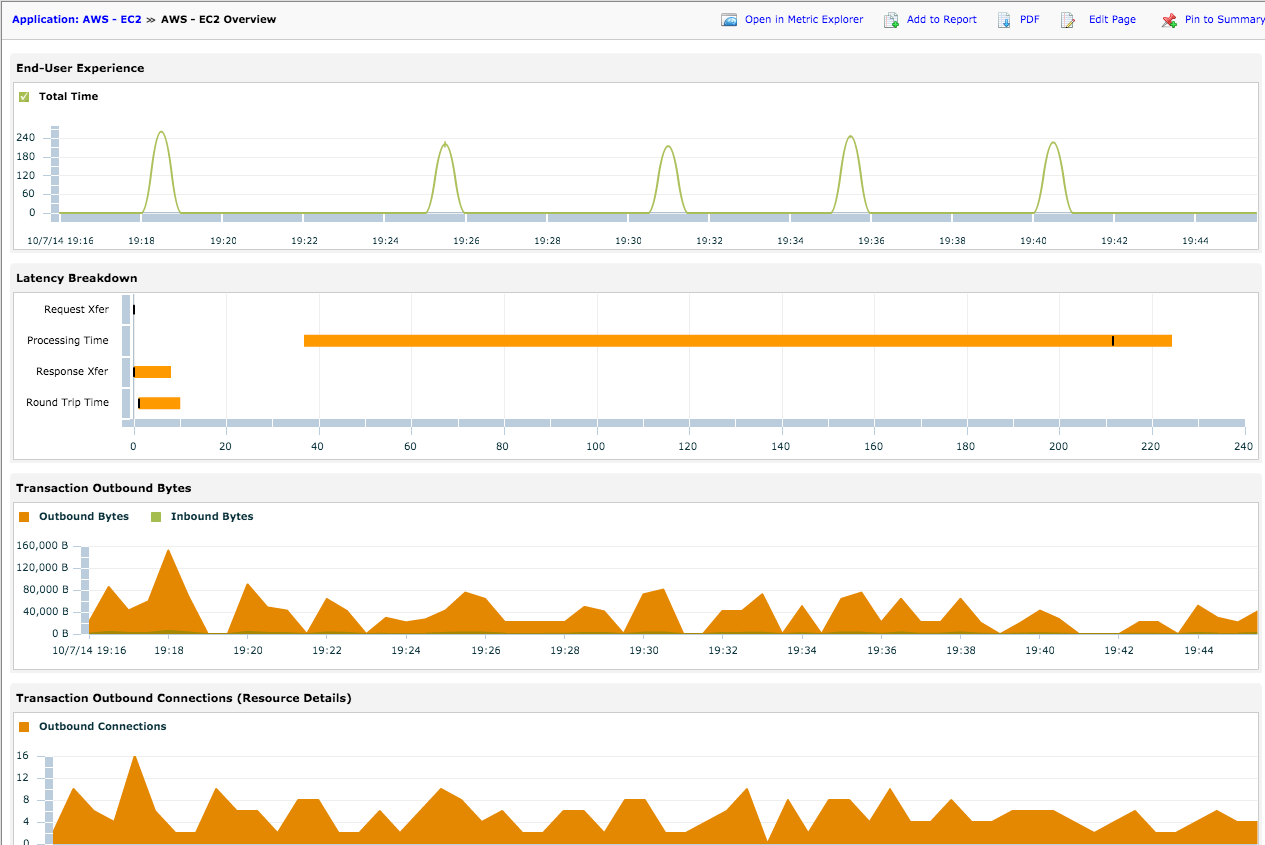 Understand how your elastic load balancer is affecting end user experience and identify autoscaling events.
ELB Custom Page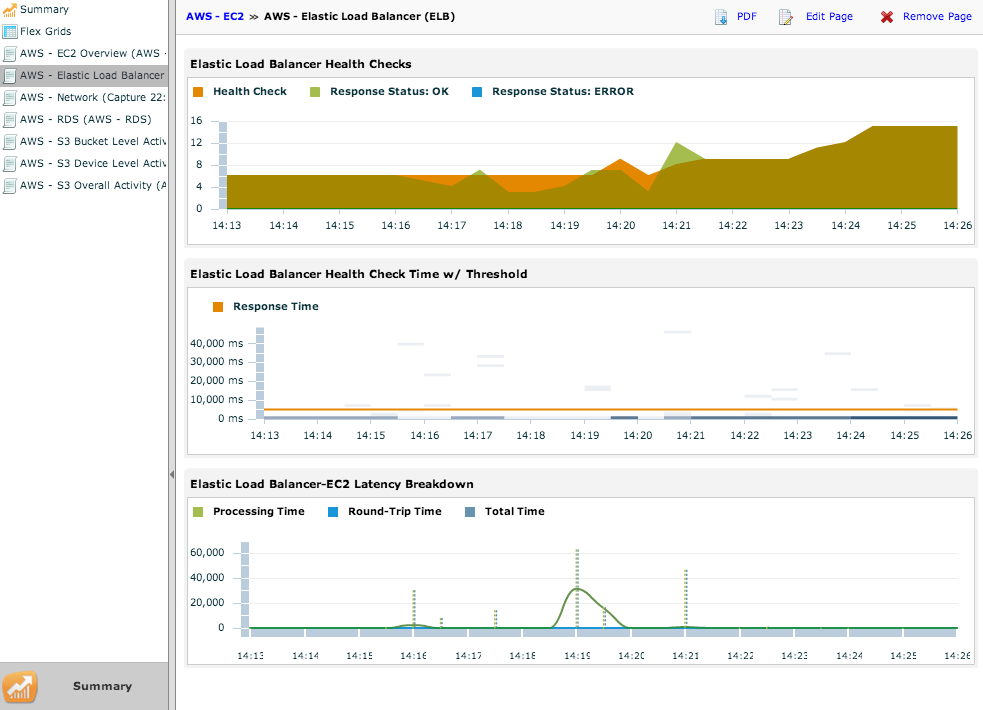 Breakdown S3 usage per file, bucket, and region, and identify and troubleshoot potential configuration errors.
S3 Custom Page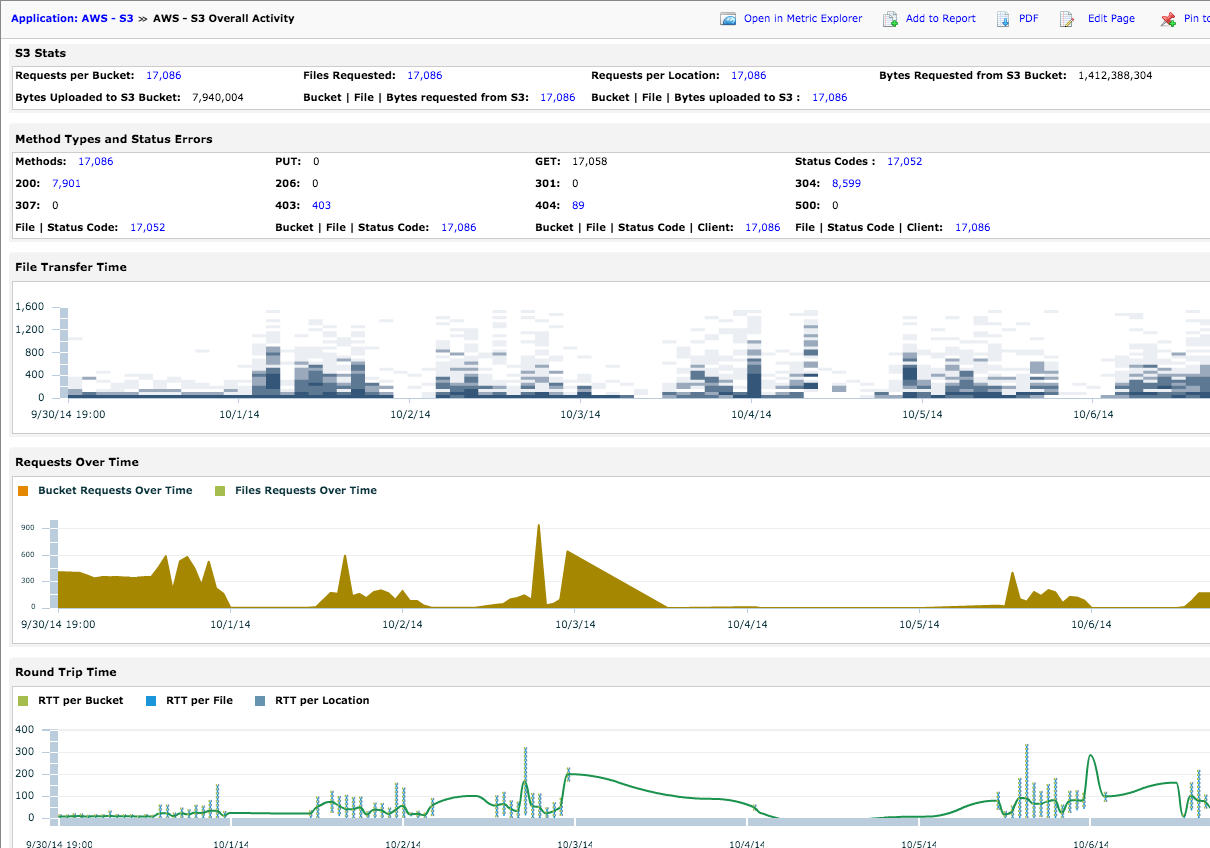 Achieve unparalleled, statement-level visibility into RDS database performance
RDS Custom page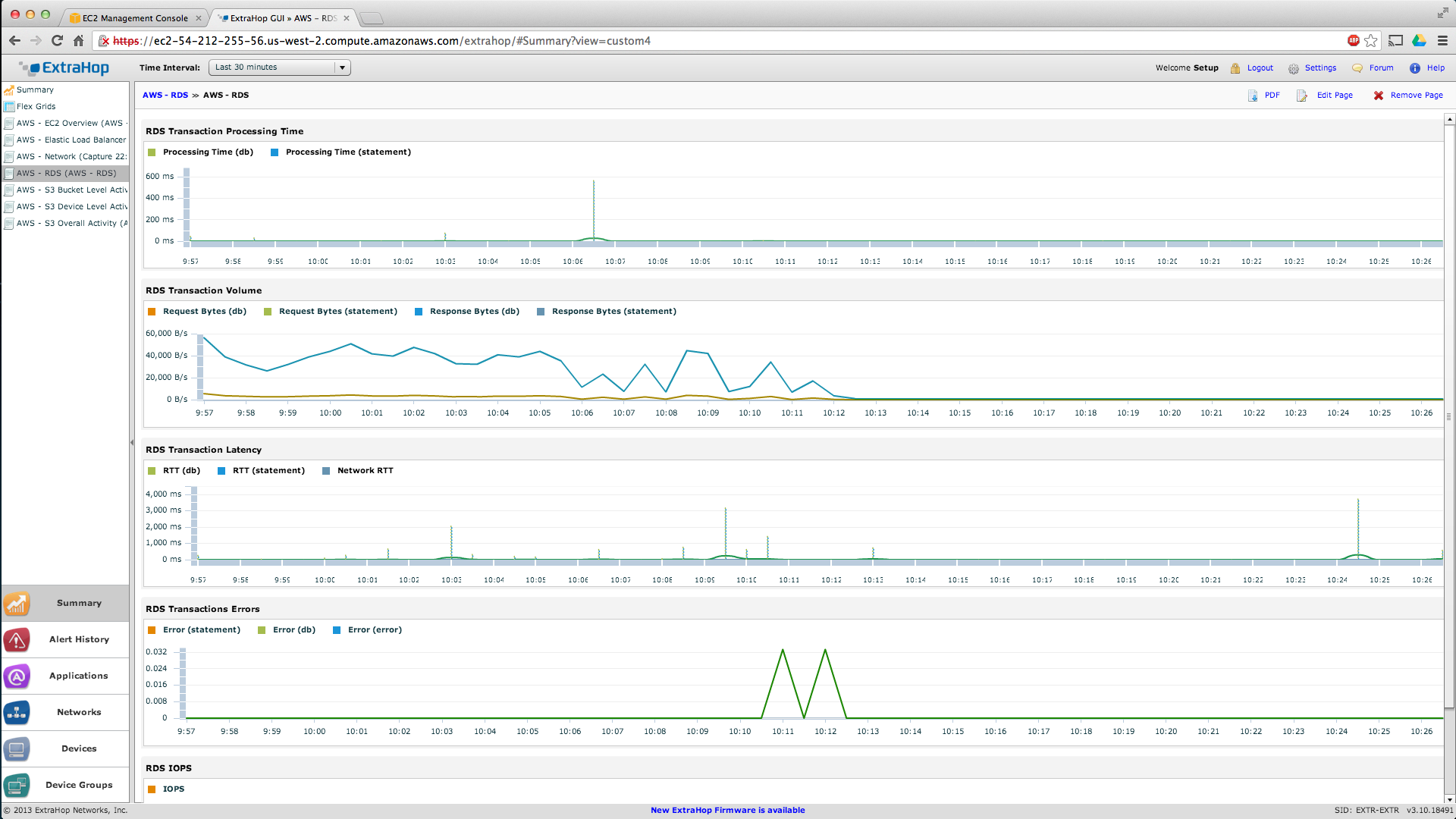 Installation Instructions
Note: The bundle is installed by default in the ExtraHop AMI in AWS. To view on your ExtraHop AWS Instance, go to Settings -> Bundles and click on AWS Solution Bundle. Click on Apply and OK for the Dashboards to appear.
If the bundle is not on your system, follow these instructions:
Download the bundle file
Upload the bundle to your ExtraHop Virtual Appliance. (Settings -> Bundles -> Upload)
Check the box that says "Apply 9 Included Assignments"
Click Apply. You should see "Ok: bundle applied successfully"

Because ExtraHop auto-discovers and auto-classifies devices let the ExtraHop run for a few minutes to collect data. Once you start seeing your AWS applications, add the custom pages.
Go back to the main page and click on the Networks button on the left hand column. Click the Pages tab. To add a page, click the green plus symbol. Select AWS - Network and click OK.
To add the page to the Summary Screen click Pin to Summary in the upper right of the AWS-Network page.
Navigate to Apps and click AWS - EC2, click the Page tab on the top level tree of AWS-EC2. Next click the green plus symbol in the Pages tab and check the AWS - EC2 and AWS Elastic Load Balancer pages.
Navigate to both of the pages using the left navigation tree and pin to summary.
Navigate back to Apps, click AWS - RDS, click the Page tab when you are on AWS - RDS. Next, click the green plus symbol and check the AWS - RDS page. You can pin this page the summary by clicking Pin to Summary at the top right menu bar.
Repeat the steps above to add AWS - S3 Overall Activity page to the AWS - S3 Application.