Description
Exploring some of the power of wire data, I wanted to try and replicate an old iRule I saw on DevCentral which blocked credits cards passing through an ADC. The AI trigger identifies and VALIDATES (using Luhn's Algorithm) credit cards passing over unencrypted HTTP channels and can also identify the brand of the card (Visa, American Express, Mastercard, Discover, other).
This code is not optimized at all, it should not be applied to a production system. I'll update when I get better performance, but for now it's a proof of concept. Thoughts and comments appreciated!
Note for the security minded: Because the ExtraHop performs it's wire data analysis in memory, the card number is never written to disk.
Screenshots: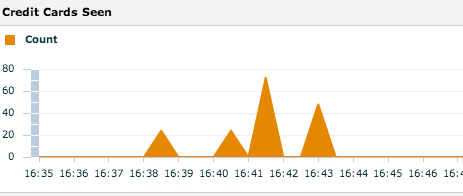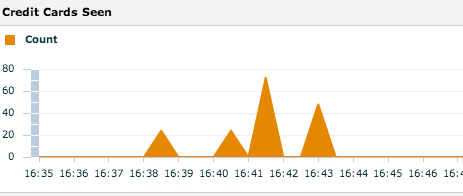 n
Trigger
/* Trigger Name: Credit Cards in the Clear  
 * Author: Abella  
 * Date: 9/13/2013  
 * Description:  Identify valid CCs passing over unencrypted HTTP and  
                 identify the brand of CC  
 * Event: HTTP_REQUEST, HTTP_RESPONSE  
 * Has "USER_SET": identifyBrand  
 */

// USER_SET: For performance, can turn off brand identification  
var identifyBrand = true;

var payload = HTTP.payload;  
if (payload === null) {  
    exit();  
}

// Match valid cards only, including if submitted using spaces or dashes  
// Regex from http://www.regular-expressions.info/creditcard.html  
payload.replace(/[ -]+/g,"");  
var cards = payload.match(/(?:4[0-9]{12}(?:[0-9]{3})?|5[1-5][0-9]{14}|6(?:011|5[0-9][0-9])[0-9]{12}|3[47][0-9]{13}|3(?:0[0-5]|[68][0-9])[0-9]{11}|(?:2131|1800|35\d{3})\d{11})/);

if (cards !== null) {  
    for (var i=0;i<cards.length;i++) {  
    var card = cards[i];

    // Validate card number using the Luhn Alg (MOD 10)  
    if (checkLuhn(card)) {  
        var detail = "Client: "+Flow.client.ipaddr+  
                     "  Server: " + Flow.server.ipaddr;  
        Network.metricAddCount("cc_count",1);  
        Network.metricAddDetailCount("cc_count_detail",detail,1);

        // Only identify brands if user set  
        // Logic from http://cuinl.tripod.com/Tips/o-1.htm  
        if(identifyBrand) {  
            var brand;  
            switch (card[0]) {  
                case '4':  
                    brand = "visa";  
                    break;  
                case '5':  
                    brand = "mc";  
                    break;  
                case '6':  
                    brand = "discover";  
                    break;  
                case '3':  
                    switch (card[1]) {  
                        case '4':  
                            brand = "amex";  
                            break;  
                        case '7':  
                            brand = "amex";  
                            break;  
                    }  
                    break;  
                default:  
                    brand = "other";  
                }

            Network.metricAddCount("cc_brand_"+brand,1);  
            Network.metricAddDetailCount("cc_brand_detail_"+brand,detail,1);  
            }  
        }  
    }  
}  

// Read about here https://en.wikipedia.org/wiki/Luhn_algorithm  
function checkLuhn(card) {  
    var luhnArray = [0, 2, 4, 6, 8, 1, 3, 5, 7, 9];  
    var sum = 0;  
    var numdigits = card.length;  
    var parity = numdigits % 2;  
    for(var i=0; i < numdigits; i++) {  
        var digit = parseInt(card.charAt(i))  
        if(i % 2 == parity) {  
            digit = luhnArray[digit];  
        }  
        sum += digit;  
    }  
    return (sum % 10) == 0;  
}