Description
This bundle analyzes common security vectors, such as certificates, ciphers, and DNS for behavior patterns associated with potential threats. This analysis allows IT operations and security teams to proactively identify and react to potential security issues.
With the Threat ID bundle, organizations have complete visibility into the following areas:
Questionable DNS activity such as WPAD, ISATAP, and unusually large sized requests
Weak ciphers and anonymous sessions
Expiring certificates and wildcard certificates
Non-compliant and outdated transport layer security protocols (such as SSLv3 or TLSv1.0)
The following updates are included in this version:
A new summary dashboard that gives a concise overview of important metrics
Improvements to the certificates dashboard and trigger:

Added an option to the trigger that restricts metrics to internal SSL servers only
Added the ability to filter out certificates in the trigger
Added a new dashboard region for self-signed certificates
Added drill-downs by client to all certificate metrics

Improvements to the ciphers dashboard and trigger:

Added a SSL version widget
Removed the Threat ID: Ciphers trigger and replaced custom bundle metrics with built-in cipher metrics. Built-in metrics consume less system resources than custom metrics.

DNS dashboard and trigger:

Removed WPAD and Reverse DNS Lookup Failure metrics from Threat ID: DNS trigger and replaced with built-in DNS metrics

Scans dashboard and trigger:

Removed the Threat ID: Scans dashboard and Threat ID: Scans triggers; this functionality is now available through ExtraHop Addy

Added Threat ID record queries for useful EXA records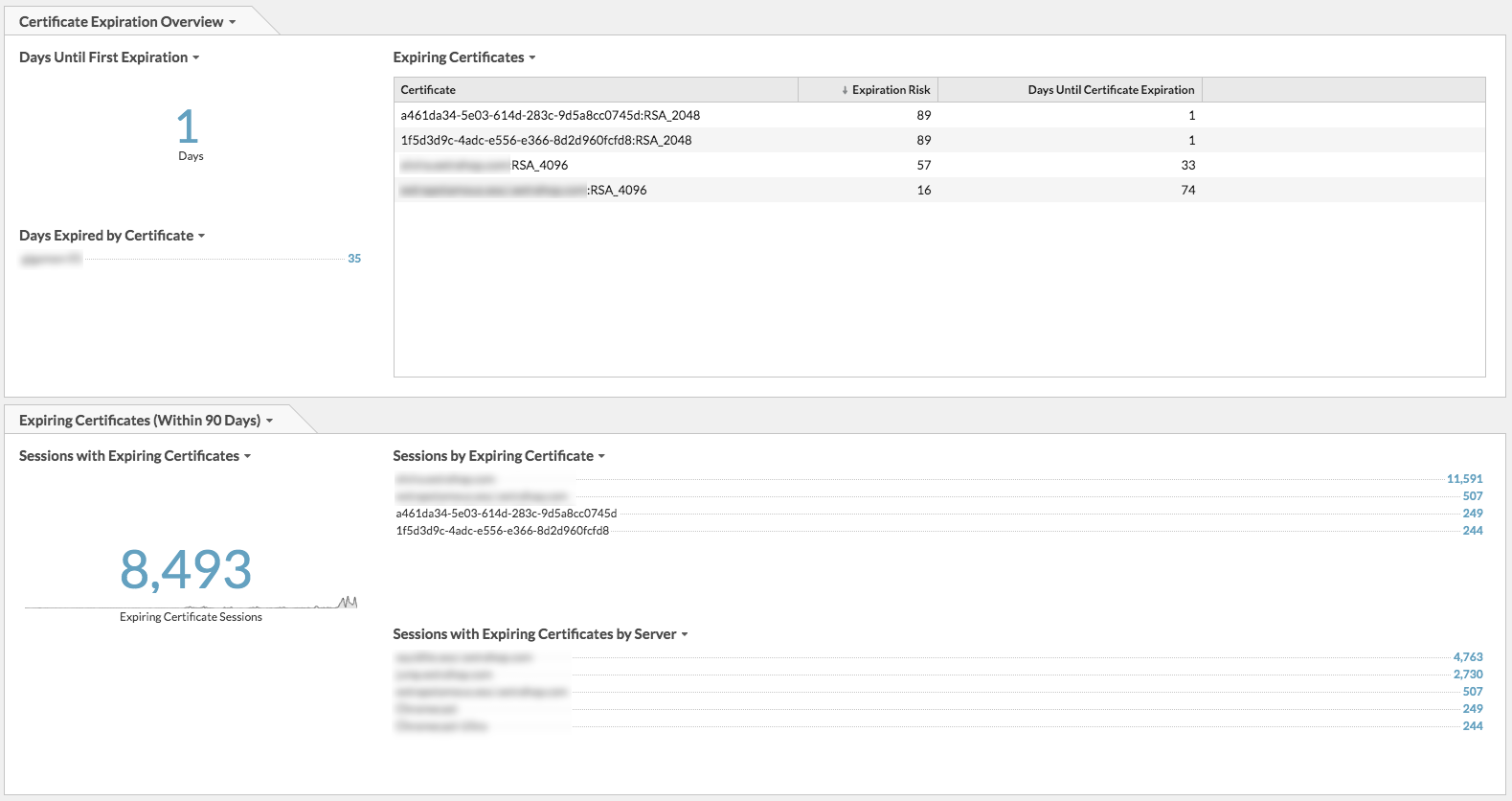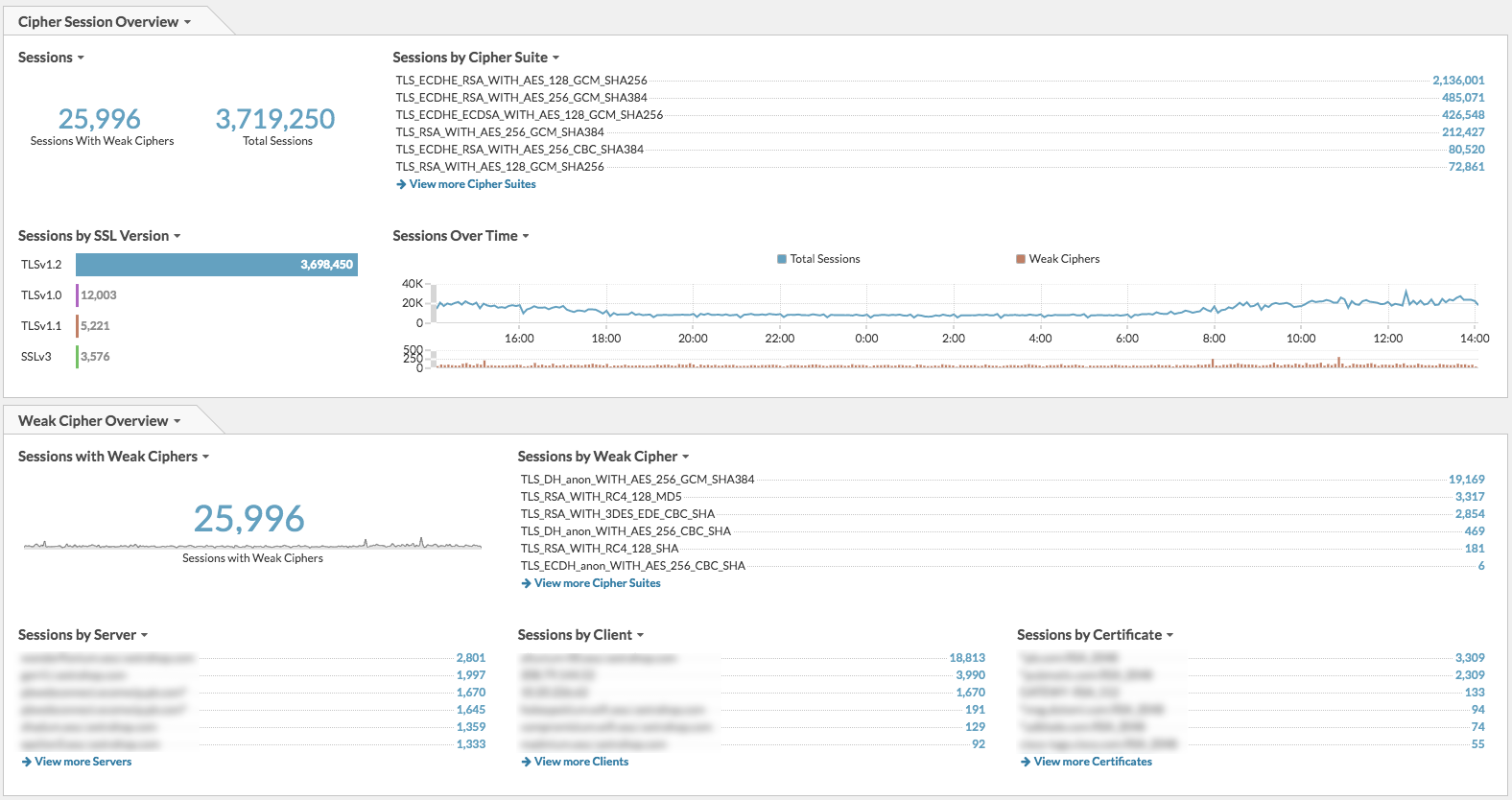 Bundle Contents
(2) Triggers

Threat ID v2: Certificates
Threat ID v2: DNS

(3) Dynamic Groups

DNS Clients
DNS Servers
SSL Servers

(4) Dashboards

Threat ID: Overview
Threat ID: Certificates
Threat ID: Ciphers
Threat ID: DNS

(5) Record Queries

Sessions with Weak Cipher Suites
Sessions with Self-Signed Certificates
DNS WPAD Traffic
DNS ISATAP Traffic
DNS Reverse Lookup Failures
Requirements
ExtraHop version 7.1.2 or later
Installation Instructions
Download the bundle on this page.
Log into the ExtraHop Web UI and complete the following procedures.

Upload and Apply a Bundle - Check the Apply included assignments checkbox and from the Existing objects menu, select Overwrite. Note: This will also overwrite any existing Device Groups named DNS Clients, DNS Servers, or SSL Servers.
Enable each of the Threat ID v2 triggers.

Optional: configure the Threat ID v2: Certificates trigger

Under the User-customizable Variables heading, configure the following variables:

ADVANCED_DAYS_NOTICE - A certificate with an expiration length less than this value in days qualifies as "expiring soon."
ACCEPTABLE_EXPIRATION - A certificate with an expiration length greater than this value in years qualifies as "long-lived."
INCLUDE_EXTERNAL_DEVS - Determines whether the trigger tracks certificates on external servers.
CERT_BLACKLIST - Certificates in the this array are ignored by the trigger.