Description
This bundle detects Link-Local Multicast Name Resolution (LLMNR) queries, responses, and exploit attempts made through the Responder tool. Responder captures credentials on a local network by exploiting the LLMNR protocol, which is enabled by default on most Windows machines. This process is known as LLMNR poisoning.
If a DNS server is unavailable or a lookup fails, the requesting machine will attempt to resolve the name by broadcasting an LLMNR request to the local network. A machine responds to the client with the IP address of the requested host, to which the client can then authenticate.
Responder allows an attacker to listen for LLMNR requests and give a victim a malicious IP address instead of the IP address of the requested host. The attacker then receives the victim's credentials when the victim attempts to authenticate.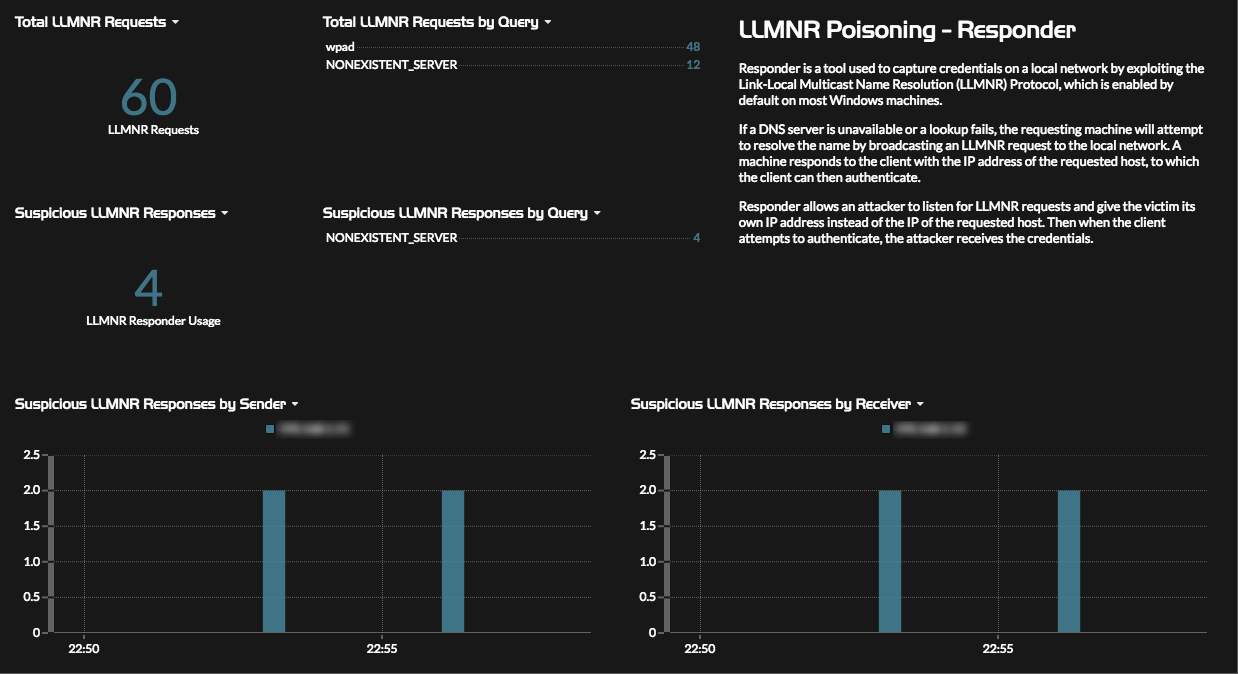 This dashboard shows information about LLMNR queries and responses that are likely LLMNR poisoning attempts, including who the potential attacker is and what device they are targeting.
Bundle Contents
(1) Trigger
(1) Dashboard
(1) Dynamic Group
Requirements
ExtraHop version 6.2.4 or later
Installation Instructions
Download the bundle on this page
Log into the ExtraHop Web UI and complete the following procedures:

Upload and Apply a Bundle - When applying the bundle, check the Apply included assignments checkbox.
Enable the Responder Detection trigger.