Gain a complete view of all the applications running in the data center with ExtraHop and Splunk. The Wire Data App for ExtraHop enables IT teams to precisely export performance events and other information to Splunk that otherwise would be difficult or impossible to log, and to do so without agents or forwarders.
To get a better idea of the value of the ExtraHop and Splunk together, read this blog post from an ExtraHop user: Where Wire Data Meets Machine Data.
Visualize Performance Events Throughout the Datacenter
With the ExtraHop wire data analytics platform, IT teams can capture critical performance metrics from the following systems:
Web servers (Apache, Microsoft IIS, and more)
Application servers (Apache Tomcat, ASP.NET, Ruby on Rails, and more)
Mail and collaboration servers (including Microsoft SharePoint)
Database servers (IBM DB2, IBM Informix, MySQL, Oracle, PostgreSQL, Microsoft SQL Server, and Sybase ASE)
Storage devices
Authentication servers (LDAP, RADIUS, Diameter)
Network services (DNS)
Network devices (including load balancers and firewalls)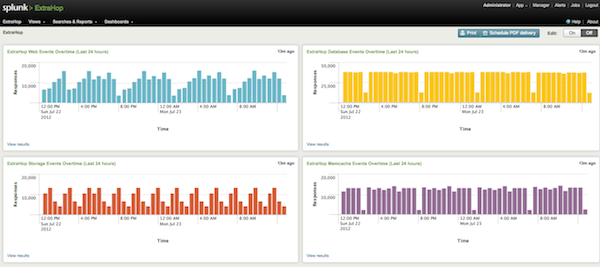 Download the Wire Data App for ExtraHop.
Read the ExtraHop and Splunk datasheet.
Read about ExtraHop's Open Data Stream capabilities.
Precision Logging for Splunk
The ExtraHop platform continuously monitors application performance with a non-intrusive, network-based deployment; the Splunk Enterprise platform enables IT teams to manage and visualize data from ExtraHop and other sources. Combined, these solutions provide a complete view of the health and performance of all applications running in the datacenter.
ExtraHop can immediately record metrics and events to Splunk that cannot be logged otherwise:
Consistently formatted logs across heterogeneous data center components, such as network storage systems from different vendors
High-priority events, anomalies, or thresholds with precision and according to set policies
Specific correlated network, web, VDI, database, or storage events, such as when database transactions exceed a set amount from one or more specified clients or file access times across heterogeneous networked storage systems exceed a certain threshold
Splunk Overview
Splunk software indexes and harnesses machine-generated big data that organizations can monitor, search, analyze, visualize, and act on. More than 4,400 organizations in over 80 countries use Splunk Enterprise for operational intelligence so that they can deepen their understanding of the business and their customers, improve service levels and uptime, reduce cost, and protect against cyber-security risks. For more information, visit www.splunk.com.