SEATTLE, WA - July 7, 2016 – Next week at Cisco Live, ExtraHop, the global leader in real-time wire data analytics for IT intelligence and business operations, will continue its mission to change the way IT organizations use their network. Cisco Live takes place at the Mandalay Bay Convention Resort on July 10-14 in Las Vegas.
In today's modern and dynamic IT environments, the network is much more than a transport, providing the richest source of IT data for IT teams to fix, optimize, and transform their operations. Gaining access to and analyzing that information in real time, however, is challenging. According to Cisco, network data is growing rapidly at 25 percent CAGR, and legacy network performance management tools are not architected to keep pace with this demand.
At Cisco Live, ExtraHop invites attendees to Booth #1637 to experience first-hand the ability to explore, observe and analyze the data streaming across the network. In advance of the event, Cisco Live attendees can schedule a live product demonstration.
ExtraHop will also provide an informative session on best practices for leading a network transformation:
# Transform Your Network Into a Source of Application and Business Insight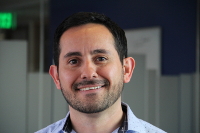 When: Wednesday, July 13th at 3:45pm - 4:15pm
Where: Think Tank Theater located in The Hub (Bayside B)
Speaker: Isaac Roybal, Principal Product Marketer at ExtraHop
Why?: How efficiently are applications using new dynamic network infrastructure? What is the impact on end users? As network infrastructure becomes more abstracted, these types of questions become more difficult to answer. Unfortunately, the richest source of data about performance, security, and business operations goes unused. (Hint: It's the network). In this session, attendees will learn how stream analytics taps into the rich L2-L7 insights available from wire data, and how to become data brokers for their entire IT organization.
To experience the power of the ExtraHop platform, explore the ExtraHop interactive online demo. For more information, including customer case studies and product releases, like and follow these social media platforms:
Twitter: @ExtraHop
Facebook: www.facebook.com/extrahop
LinkedIn: www.linkedin.com/company/extrahop-networks