[Update, September 15, 2015]: The ExtraHop Discovery Edition is no longer in active development or maintenance, but current license-holders may continue using all features described in this post.
Free Bundle Correlates Mobile, Laptop, and Desktop Page Load Metrics from Boomerang with Real-Time Wire Data from ExtraHop, Helping IT Become a Strategic Driver of Customer Engagement and Revenue with End-to-End Visibility Into Website and Web Application Performance
SEATTLE, WA – May 5, 2015 – ExtraHop, the global leader in real-time wire data analytics for IT intelligence and business operations, today announced the ExtraHop Real-User Monitoring (RUM) bundle. The new bundle is the only RUM offering on the market that provides IT teams with the real-time, correlated, end-to-end visibility necessary to ensure a seamless web experience, keeping end users engaged and driving sales and revenue through better website performance. Unlike other solutions that charge for visibility into end-users' experience, the ExtraHop RUM bundle is free to all ExtraHop users, even those using the ExtraHop free-forever Discovery Edition.
"ExtraHop's approach to user experience management (UEM) is innovative, integrated, and natively extensible in value," said Dennis Drogseth, vice president, Enterprise Management Associates. "It combines valuable insights into user experience regarding browser, web page, and web page components, with real-time perspectives on network and systems latencies. As such, it's both a natural and highly-efficient addition to ExtraHop's broader analytic directions."
Many web developers already use Boomerang to collect relevant page-load metrics, but analyzing and visualizing these metric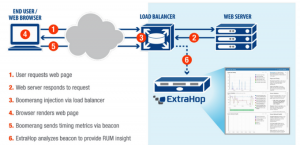 s has always been a challenge, often requiring manual examination of web server logs. The ExtraHop RUM bundle correlates data delivered by Boomerang with all ExtraHop wire data analysis metrics to show an end-to-end view of the client and all application, network and infrastructure components involved in a web application.
With the RUM bundle, the ExtraHop platform now allows IT to measure users' perceived page-load time against 3,000+ back-end performance metrics such as server processing time and network latency to generate a truly complete picture of the user's experience and the infrastructure that delivers it. Web developers now have a view of the performance contribution of every object served from any page. In turn, business stakeholders are equipped with the insight they need to understand user experience by web page, browser type, mobile, laptop, and desktop platform to take proactive steps prioritizing development and improving audience experience to keep users engaged.
Other key benefits and capabilities of the ExtraHop RUM bundle include the following:
Real-time analysis, visualization, and alerting on client load time metrics provided by Boomerang.
A comprehensive view of perceived load times provided by correlating client metrics from Boomerang with network health metrics and web server processing times.
Measurement of bandwidth being used by all web pages to assist IT in capacity planning.
Tracking of the impact of website changes both pre- and post-deployment to improve response times and avoid service disruptions or latencies.
The industry's simplest deployment model via application delivery controllers which create no added management overhead or performance impact on web servers.
"Web application performance problems are frustrating at best, while severe problems can damage the brand and negatively impact revenue," said Jesse Rothstein, CEO, ExtraHop. "With client-side JavaScript and Navigation Timing APIs, the problem of measuring end-user experience has been solved, but large challenges remain around making sense of the data. With ExtraHop's new RUM bundle, IT teams can easily visualize and correlate end-user experience to performance across the network, servers, databases, message queues, and other components of the application delivery chain."
The ExtraHop RUM bundle is available to both Enterprise Edition and Discovery Edition customers at no additional charge and with no usage limits. To get started with ExtraHop, request your free-forever ExtraHop virtual appliance. To learn more, read the blog post: Real-User Monitoring's Next Frontier: Context, Context, Context.