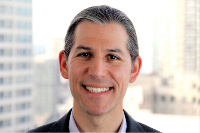 **SEATTLE, WA – May 28, 2015** –
ExtraHop
, the global leader in real-time wire data analytics for
IT intelligence and business operations
, today announced that co-founder and CEO Jesse Rothstein will join executives from Puppet Labs, Datastax, and ScienceLogic for a panel discussion on the future of IT infrastructure during the 2015 Goldman Sachs PLATFORM: Software Conference. During the panel, Rothstein will discuss monitoring and managing the increasing scale, complexity, and dynamism of IT, and the role of sophisticated data analytics in the future of IT operations management.
Session Title: Infrastructure & Beyond
Panelists: Ross Tennenbaum, VP Technology Investment Banking at Goldman Sachs (Moderator)
Jesse Rothstein, CEO, ExtraHop
Billy Bosworth, CEO, Datastax
Luke Kanies, CEO, Puppet Labs
David Link, CEO, Science Logic
Session Details: The move to hybrid compute environments, rapid advances in data center speeds, and increasingly sophisticated threats are forcing a transformation in the way that IT infrastructures are managed. In this PLATFORM session, CEOs of some of the top companies driving this transformation will offer their insights into the future of IT and discuss the role of Big Data and advanced analytics in the emerging IT operations paradigm.
When: Monday, June 1, 2015
Where: Four Seasons Hotel San Francisco
For news and information about ExtraHop and the IT Operations Analytics market, like and follow us on these social media platforms:
Twitter: @ExtraHop
Facebook: www.facebook.com/extrahop
LinkedIn: www.linkedin.com/company/extrahop-networks