HIMSS is always a big deal for ExtraHop, and this year is going to be ExtraHuge. Our most seasoned Health IT pros will be speaking and giving live ExtraHop demos to showcase what ExtraHop is doing right now to make the healthcare industry smarter, faster, and more in control of their IT environments.
We're also giving away great swag to people who visit our booth and check out a demo of ExtraHop.
HIMSS 2016 is happening at the Sands Expo Center in Las Vegas from February 29 through March 4, 2016.

Book an ExtraHop demo, schedule a meeting, or get the full details about everything we're doing there from our official HIMSS 2016 page.
Come to booth #12350 for demos & funny t-shirts
Remember last year when every healthcare organization in the U.S. had to convert from ICD-9 to ICD-10 and it was a huge headache? We're taking the old axiom "laughter is the best medicine" to heart and giving away t-shirts featuring some of the silliest new ICD codes, like V97.33 (sucked into a jet engine) and V91.07 (burn due to waterskis on fire).
You can get one of these t-shirts, or some awesome LEGO Technic swag by stopping by our booth and taking in a demo. So worth it!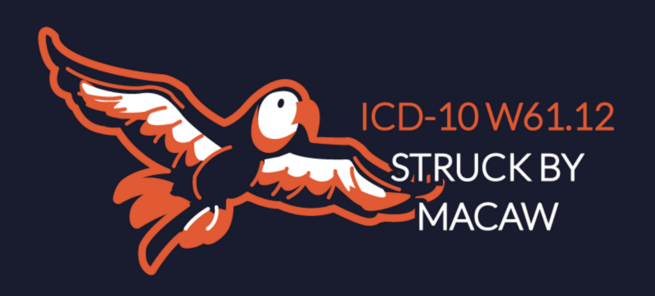 To get the best swag you'll have to take a swing at Packet FreeFall, the ExtraHop videogame where you speed through every layer of the data center to get total visibility into your network before performance issues catch up and ruin your day!
Speaking Session: Real-Time Clinical and Business Intelligence
Speaker: Erik Giesa, SVP of Marketing and Business Development
Date/Time: Thursday, March 3 11:30am-12pm
Abstract: Within the communication between healthcare systems lies a cost-effective way to gather and correlate data, and achieve real-time clinical and business insights. By understanding the values, patterns, and relationships within your data you can transform patient care. Learn how to use ExtraHop to extract powerful insights from data in flight.
VIP Drinks Reception with Our Partners Presidio & Engage
This is a chance for ExtraHop customers and prospects to engage with ExtraHop and some of our prized partners in more plush surroundings than the bustle of the show floor. Stop by our booth, #12350 to pick up your ticket.
Join us on March 3, from 8-10 p.m. at the Clique Bar & Lounge at The Cosmopolitan for drinks and conversation with some of the best and brightest in the health IT space.
How Healthcare Benefits from Real-Time Wire Data
HIMSS doesn't start for a couple of weeks, but you're excited now! We feel the same way. Here's some great material to get familiar with before the show.
Check out this testimony from Wes Wright, former CIO of Seattle Children's Hospital, on how ExtraHop provided real-time insights that changed how the hospital approached IT operations:
Get Technical
If you're an IT pro that likes to dive right into the guts of things and see how they work, watch the webinar we created last year explaining ExtraHop's unparallelled HL7 analytics capabilities. This video is packed with great info, but keep in mind that it is over a year old, and everything about our platform is faster and more optimized to solve your problems now.
See You There!