Do you like a challenge? Fancy yourself a geek's geek that doesn't back down, no matter how many lines of code it takes to thwart the gremlins you're after? Do you crave the adulation of your peers? Are you a fan of fabulous prizes? Then oh do I have some news for you…
I am happy to announce ExtraHop's first ever, perhaps semi-annual (yet to be determined), awesome and exciting Bundle Battle!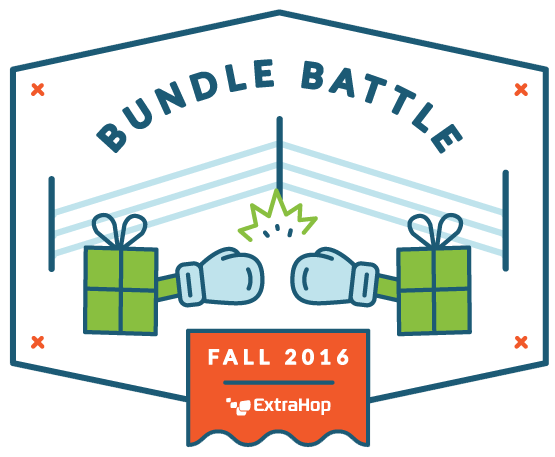 A "bundle" is our custom package format that allows a collection of items to be rolled into a single object. That object is then easy to download, share, and install elsewhere with just a few clicks. So whether you're looking to share some dashboards and triggers with a co-worker, grab the latest wizardry that ExtraHop-genius ryanc has gotten up to with RUM, or see what other community members are working on, bundles are the go-to way to do it.
If you haven't noticed yet, we have a rapidly growing (and downright excellent) Bundles Gallery here at Extrahop. This is a place where users can browse, investigate and share the wicked awesome things they're working on. As such it's also a place to see what kind of bundles everyone else is building.
This year, as our community continues to grow, we're throwing down the gauntlet, so to speak. We want to see your coolest, craziest, nerdiest bundle. Whether it's insanely complex, super simple; elegant or spaghetti code - if it does something cool, we want to see it!
Not only do we want to see it, we want to pit your killer contributions against your fellow ExtraHop community members' to see who is the baddest bundler of them all.
Here's how it works:
Submit a unique ExtraHop bundle to qualify (No re-posting existing bundles)
Your submission must be uploaded to the Bundle Gallery no later than October 13th.
Start by filling out the form* and submit your bundle via the Bundles Gallery.

* For obvious reasons relating to the linear progression of time, the link that was here has been removed

Profit!
No seriously, that's it. We strongly recommend you don't post any sensitive info, so scrub those internal IPs and emails, but other than that it's super straight forward. Build it. Post it. Link it. BAM! You're in.
Submissions will have until October 13th to be included, after which an esteemed panel of ExtraHop judges will carefully weigh and measure the entries and declare the winners.
At the end of the judging period I'll post to announce the winner and laud their many wondrous and impressive merits. But it's not just kind words and merriment we're offering, check out the goods!
For your troubles, the winner will receive some sweet ExtraHop swag and bragging rights in our forums and blog.
I think that's all you need for now, but if you have any questions at all, want to know more, or just want to chime in and start the trash talking, feel free to comment below, or jump in on the official Bundle Battle thread in the forums.
What are you waiting for? Get cranking! We want to see who's got the chops, so let the Bundle Battle begin!
Full contest rules are available here.