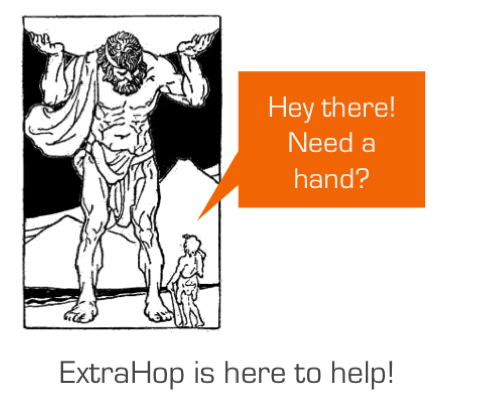 We've just released version 3.7 of the ExtraHop system, including important new application performance monitoring functionality that makes IT operations more agile and efficient. Our aim with this release is to enable IT organizations to better visualize their data, identify issues even faster and resolve them proactively, facilitate collaboration among various IT disciplines, and allocate more resources to IT innovation.

When first viewing version 3.7 features, we recommend wearing protective headgear to prevent mind-blowing related injuries. Read more about Grant's experiences with version 3.7 below.
Don't Be Fooled By the Point-Release Moniker!
Despite its humble point-release status, version 3.7 is full of powerful new capabilities, including this impressive list:
Geomaps – Dynamically updated, interactive maps that show selected per-client performance metrics and alerts for a chosen application, device, or device group. ExtraHop geomaps enable IT teams to monitor application performance service levels across geographic regions.
Dashboards and flex grids – Summary views of important built-in and user-defined application performance metrics. With these capabilities, IT organizations can easily create summary views and reports for CIOs, application owners, compliance teams, network engineers, database administrators (DBAs), and storage administrators.
Advanced payload analysis – Analysis of structured transactional data passed over HTTP, including REST, JSON, AJAX, JavaScript, SOAP/XML, and HTML5. This analysis enables IT teams to monitor internal and external web services and API calls as well as information related to web form submissions and web page user names.
Policy-based logging – Rsyslog exportation of specified events from the ExtraHop system to any system that receives rsyslog input, such as Splunk, ArcSight, or Q1 Labs. This capability enables IT teams to log events that are difficult or impossible to log otherwise, such as TCP metrics, database query response times, and file-access times across heterogeneous networked storage systems.
Solution bundles – Packages of application-specific performance monitoring functionality that can be downloaded, improved, extended, and shared within the IT organization. These bundles can include dashboards, alerts, geomaps, dynamic groups, and Application Inspection Trigger (AI Triggers).
Alerts by IP address – Alerts that fire based on the health and performance of a single client IP. For example, an alert can detect excessive server processing or network transfer time for any IP address accessing a specific web, database, or storage device.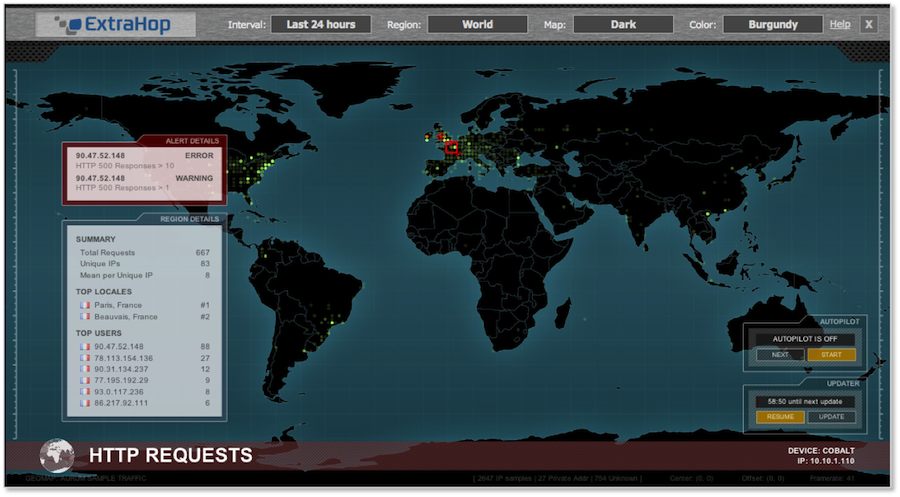 The geomaps feature in version 3.7 of the ExtraHop system helps IT teams to monitor application performance service levels across geographic regions.
One of our customers, T2 Systems, used the dashboards functionality in version 3.7 of the ExtraHop system to monitor business-critical transactions for its Flex software-as-a-service (SaaS) offering. Grant Dawson, SaaS Analyst at T2 Systems, recently wrote a blog post about how their organization uses the ExtraHop system:
"ExtraHop is an Application Performance Management appliance that provides visibility into nearly all activity within a given hosting environment. For T2 and our hosted customers, the value of ExtraHop is nothing short of spectacular.…
…Using some pretty amazing technology [from ExtraHop], T2 is able to monitor virtually all data communicated across our network in real time. Not only can we visualize what is happening as it is happening, but we are also able to understand the data for its real world implications: the performance and reliability of our application, what the customer sees and feels, and how we can improve our product. For example, utilizing some dashboards T2 created with the help of our friends at ExtraHop, we are able to notice trends and deviations within our Flex software, enabling us to alert the correct support staff in real time if operations are slower than they should be for our customers.
Because of the real time capability to discern and provide detailed information, our team has been able to detect and respond to irregularities long before they become issues. Any tool that can do that is a winner in my book."
Wow! Feedback like what Grant provided really makes our day.
Thanks, Grant! This is why we built the ExtraHop system—to ease the burdens of IT Operations teams. We see an IT Operations team as the Atlas of Greek mythology, carrying the weight of the business. With deeper and more-contextual visibility than ever, version 3.7 of the ExtraHop system can help make this burden easier to bear.
Version 3.7 is available today for ExtraHop customers.
And when you're ready to purchase, our new subscription pricing option dramatically lowers the cost-of-entry for the ExtraHop system. You can monitor the performance of up to 50 servers or virtual machines for just one-eighth of the cost of a contemporary agent-based APM tool and 15 times less than a legacy agent-based APM tool. Read our pricing comparison for the ExtraHop system and agent-based APM tools.