Quest Software has confirmed rumors that Dell won a bidding war to purchase the company. Dell ended up paying $2.4 billion for Quest. That's a lot of money—more than 55 times Quest's earnings for the last 12 months. The big question here is: Is this a good deal for Dell and its newly acquired customers?
This latest acquisition could be a nice feather in Dell's cap, as Quest claims more than 100,000 customers, and its revenue and profit figures are healthy according to its most recent financial statement. More importantly, Quest offers Dell a strong opportunity to bolster its software and services offerings and complements Dell's $3.9 billion merger with Perot Systems in 2009. Dell is clearly chasing the strategy of IBM and HP.
Quest's Business Depends on IT Services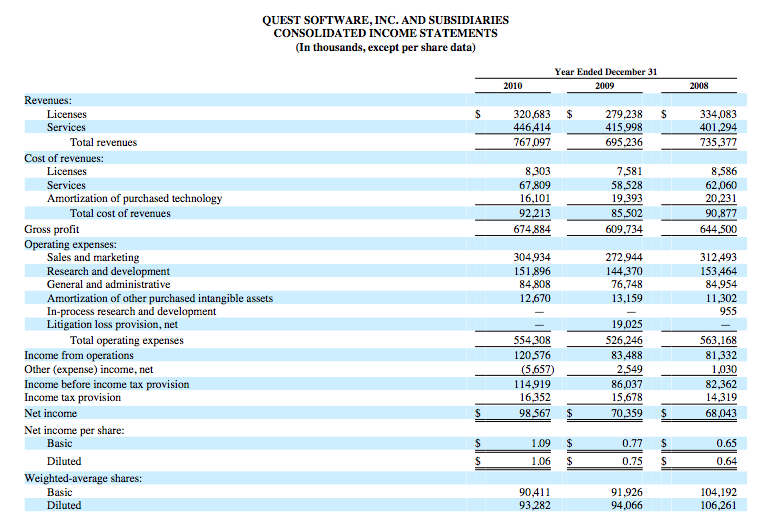 In 2010, Quest received 58 percent of its revenue from services and the remaining revenue from licenses. And there is a good reason that ratio is so high. Since 1998, according to Wikipedia, Quest has purchased 29 companies, six of which were acquired in 2011 alone, and on their website, Quest lists more than 250 distinct product SKUs. For Foglight, Quest's application performance management (APM) tool alone, the company lists 28 SKUs. The upshot of this complex, loosely integrated product portfolio is that Quest's customers must rely on the company to assist with the deployment, maintenance, and customizations. That's why Quest sold a respectable $320 million in software licenses but an astonishing $446 million in IT services in 2010. (Click the image above to enlarge.)
Legacy APM Tools Require IT Services Because They Are Overly Complex
Quest's brand of APM rose to prominence in the 1980s and 1990s when IT environments were relatively static. At that time, it made sense to use
a bottom-up approach to APM
, which assumes that if every single element and device is monitored independently, then the entire environment is monitored. This approach—
never a good idea to begin with
—is less and less tenable due to the increasingly complex and dynamic nature of today's applications.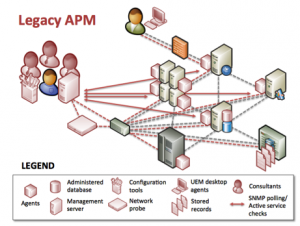 These legacy APM vendors have little to gain and much to lose if they re-architect their solutions. If their products automatically discovered and classified devices and applications and adapted to dynamic environments, they would make less money from implementation and maintenance services. If legacy APM tools empowered IT organizations to easily define new performance analysis, vendors like Quest would make less money from configuration services. IBM, HP, and CA have not set a good track record when it comes to continuing product innovation after acquiring popular technologies. If Dell re-architects Quest Foglight to eliminate complexity, that would certainly set a good precedent.
Consequences of APM Complexity
Besides adding significant management costs, a bottom-up approach to APM results in a flood of irrelevant performance data that actually hinders problem resolution. That's the conclusion of a new APM survey from TRAC Research,
"Improving the Usability of APM Data: Essential Capabilities and Benefits."
The survey of more than 400 IT organizations found that 61 percent of respondents had
a success rate of less than half
when trying to prevent application performance issues from impacting end-users, and 46.2 hours are spent each month in
"war-room" sessions
trying to figure out what went wrong after an application crisis occurred.
Simplifying APM with an Top-Down Approach
What legacy APM vendors are hesitant to offer, and what businesses need, is a
top-down
approach that simplifies APM to reduce cost and speed resolution of problems. That is exactly what the ExtraHop network-based
application performance monitoring solution
offers. The ExtraHop system does not add any additional complexity to the environment but instead passively analyzes the communications flowing among application components and extracts valuable health and performance metrics in real time. The ExtraHop system also deploys in just 15 minutes and automatically discovers and classifies devices and applications on the network with no manual configuration or tagging required.
With the ExtraHop system, IT organizations get a continuously updated top-down view across the network, VDI, web, database, and storage tiers without having to install invasive host-based instrumentation on various components. This non-intrusive approach is perfect for IT Operations teams who must manage the performance of numerous applications in constantly changing and massively scalable environments. In the case of Concur Technologies, for instance, the ExtraHop system was the only APM product capable of monitoring more than two billion SQL queries and 500 million memcache hits each day.
Concur Optimizes Database and Memcache Performance

Download the full case study here.
This brings us back to the value of Quest Software. For Dell, which is looking to expand its software and services division, the company might be worth $2.4 billion. But companies looking for an APM solution would be better served with a modern approach that is not reliant on vendor-provided IT services. Want to learn more? Get in touch.
[For another perspective on Dell's acquisition of Quest Software and what it means for virtualization and cloud computing, read Bernd Harzog's take at The Virtualization Practice.]