Summary: ExtraHop offers a great application performance management solution for the healthcare industry that helps healthcare IT teams efficiently support initiatives such as mobile applications, electronic health records (EHR), and policy compliance. This week we're at the HIMSS12 Conference in Las Vegas, booth #5238.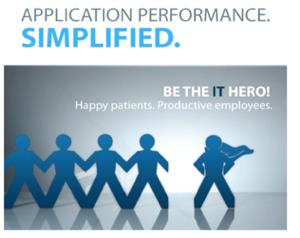 Application performance is incredibly important for nearly every industry, but the stakes are especially high for healthcare organizations. For hospitals and other healthcare providers, poor application performance invariably translates to poor patient care. As one caregiver succinctly put it, "When you have 20 minutes to meet with a patient, you don't want to wait five minutes to access your desktop or application."
Application Performance Monitoring Ensures Top-Quality Patient Care
To ensure that patients receive the best care possible, healthcare IT teams must monitor the performance of a range of applications: electronic health records (EHR) applications; picture archiving and communications systems (PACS); and legacy systems for laboratory, pharmacy, imaging, and order entry. At the same time, these IT teams are being asked to support policy compliance and new IT initiatives, especially mobile applications. The trend of consumerizing IT is already well entrenched in the healthcare industry, with doctors and other caregivers expecting to be able to access applications through mobile devices such as BlackBerrys, iPhones, Android phones, and iPads. A
recent survey
of nearly 3,800 physicians shows that 25 percent of U.S. doctors use both smartphones and tablet computers such as the iPad in their practice.
1
Enabling bring-your-own-device (BYOD) policies got a little easier for healthcare IT teams when Citrix released its Citrix Receiver app for the iPhone in 2009 and for the iPad in 2010. These apps enable healthcare IT teams to extend their existing Citrix deployments to a range of device types. Unfortunately, the proliferation of end-user devices also means IT teams have much less control and visibility into end-user performance.
The network-based ExtraHop application performance management (APM) solution helps healthcare IT teams confidently support mobility initiatives as well as traditional application monitoring. With real-time metrics for all tiers of the application environment, the ExtraHop system provides the correlated, cross-tier visibility that IT teams need to accomplish their most pressing application performance management tasks.
The ExtraHop system supports healthcare IT applications.

Download the solution brief to learn more.
An Example: Monitoring a Citrix App on the iPad
In one customer example, a regional hospital provided both an Epic medical records application and a Cerner clinical application to physicians and other caregivers over Citrix. Recently, due to increased demand for mobility, the hospital enabled BYOD with the help of the Citrix Receiver apps. Generally, this setup worked great, but a segment of users within the hospital complained about intermittent slow performance where processes seemed to hang.
Looking at the performance metrics provided by Citrix, the IT team could see where the application seemed to be having problems, but they did not see any errors that would indicate the root cause. The hospital's IT staff members checked their ExtraHop system to troubleshoot the issue, looking specifically at performance metrics for iPads. Looking at the transaction metrics for all tiers of the application, the IT team spotted a number of aborted TCP connections that correlated with application slowness. Armed with information about the specific devices and network issues, the IT staff members investigated further and found that the problem was caused by poor coverage in the Wi-Fi network; the iPads and other devices would switch to cellular connections and disrupt the TCP connections. To fix the problem, the hospital not only adjusted the placement of their Wi-Fi transmitters but also turned off the cellular connections on the devices so that the devices would not switch to public networks, securing confidential data in the process.
Watch a two-minute video explaining how to segment performance metrics by client type, such as iPads or iPhones, in the ExtraHop system.
Supports All EHR Systems, Including Epic, Cerner, and Allscripts
The above example highlights the advantages of the ExtraHop system for healthcare IT teams. With correlated
performance metrics across the network, web, database, and storage tiers
, IT teams can more efficiently ensure optimal performance for a range of applications. The ExtraHop system provides
visibility into network performance
that many other agent-based APM solutions do not provide. In addition, because the ExtraHop system is network-based, it works for all custom-developed and packaged applications, including EHR systems from Epic, Cerner, and Allscripts. Best of all, the ExtraHop system installs in 15 minutes, auto-discovers and auto-classifies all devices, and provides comprehensive performance management visibility for all devices, not just those with an agent installed.
ExtraHop will be at the HIMSS12 Conference this week in Las Vegas, February 21-23, at booth #5238. Stop by and check out our solution for ensuring performance for healthcare IT systems!
---
1 Mary Modahl, "Tablets Set to Change Medical Practice," QuantiaMD (June 15, 2011)