Earlier this week we announced a partnership with SevOne to deliver the industry's ultimate end-to-end application-aware network performance management (ANPM) solution for monitoring business- and cloud-based applications. The joint solution combines SevOne's NetFlow- and device-based monitoring with ExtraHop's real-time application transaction analysis to deliver a compelling alternative to legacy management suites that are lagging further and further behind in meeting organizations' ANPM needs.
The joint solution can be invaluable in thwarting a whole host of performance problems. For instance, at a customer site recently the ExtraHop system alerted the IT team that a FTP file transfer was being interrupted repeatedly. After logging into the system, the NFS partition to which the transfer was destined showed "quota exceeded" errors coinciding with the FTP transfers. So a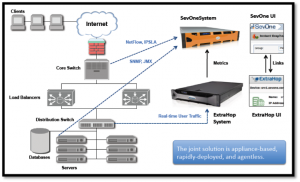 member of the IT team clicked on the SevOne Device Instant Report button to bring up the SNMP metrics for this server and saw that the disk the transfer was being sent to was near capacity, meaning another large file wasn't going to fit. Expanding the storage allocation for that important business operation resolved the problem.
This exciting new solution has a variety of other potential uses, such as being able to determine why a dip in database traffic might not be a network problem but actually a database error; or being able to show why abnormally fast response times might not mean an application is performing exceptionally well, but instead might indicate that successful transactions are failing!
We are very excited to see this joint offering become a reality. If you'd like more information, please feel free to send me an email: j.baker [at] extrahop.com. Also, be sure to check out the press release:
SevOne and ExtraHop Networks Partner to Deliver the Industry's Best Application-Aware Network Performance Management Solution