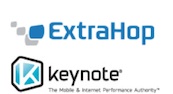 Today we announced a partnership with Keynote Systems, an Internet and mobile cloud monitoring provider. The partnership is a natural fit, as our solutions are exceptionally complementary; Keynote provides the outside-looking-in view of critical web applications, while ExtraHop provides the agentless inside-looking-out view of the datacenter. The joint solution is great news for our customers and prospective customers, because it enables end-to-end application performance management—from the end user to the datacenter—and can be deployed in less than a day.
This type of visibility is crucial today where applications are delivered across highly distributed, increasingly virtualized, and dynamic environments, making proactive application performance management exceedingly challenging. The Keynote and ExtraHop solution addresses this head on and is rapidly deployable, scalable, and suitable for even the most complex IT environments. It provides end-to-end visibility that proactively warns companies of small problems before they become major disasters.
We pre-briefed EMA Research Director Jim Frey on the partnership, and he had this to say: "End-to-end application performance management can be a huge challenge and burden for companies, but it doesn't need to be. The solution from ExtraHop and Keynote delivers the clear advantages of complete application performance management done right. It is light-weight, deploys rapidly, and is in real time—all of which are critical components to understanding and troubleshooting applications in today's highly distributed, increasingly virtualized infrastructures."
You also can read the full press release.
Webinar: End-to-End Application Performance Management
Learn how the Keynote and ExtraHop partnership can improve application performance in your IT environment and ask questions live. Join us for a
webinar
on Thursday, February 3rd at 2 PM EST / 11 AM PST.