Virtualization and cloud computing are taking enterprise IT by storm. Every customer that we work with is either expanding their virtualization practice or looking to see how they can take advantage of the public cloud. Even so, we know many owners of business-critical applications are prudently cautious about migrating from physical to virtual infrastructure or adopting public cloud computing.
According to a recent survey by Symantec, 76% of respondents said performance was their greatest challenge when it came to the cloud. This statistic indicates that, although interest is high, many organizations simply do not have the necessary processes or tools in place for managing application performance in the cloud or in virtual environments.
In conjunction with Geeknet, ExtraHop has published a white paper explaining how network-based application performance management (APM) can help enterprises migrate business-critical applications to cloud and virtual environments with confidence. The paper covers the challenges facing traditional APM tools in virtualized environments and the unique benefits of network-based APM for virtualized and cloud-enabled systems.
Five Reasons Why Network-Based Application Performance Management (APM) Is Necessary for Cloud-Enabled IT Environments. Download the ExtraHop white paper.
IT teams can make the most of cloud technologies by leveraging the following benefits of network-based APM:
Keep track of IT assets in a constantly changing environment with device and application auto-discovery and Application Activity Maps, which help IT teams manage dynamic environments and prevent VM sprawl.
Manage physical-to-virtual (P2V) migrations with accurate performance measurements before and after migration. With this approach, IT teams can set the expectations of application owners—and then deliver on those expectations.
Automatically track performance trends and baselines of both physical and virtual application components for capacity planning, provisioning, and optimization purposes. The ExtraHop system makes gathering these metrics simple with customizable reports, eliminating guesswork.
Diagnose and remedy esoteric performance issues related to virtualization, such as virtual packet loss, with an objective network-based view of application performance that is not obscured by hypervisor activity. The ExtraHop system gathers network performance data, including advanced TCP analysis, that is missing from legacy APM tools but is crucial to solving these types of problems.
Ensure compliance with service-level agreements (SLAs) with objective, on-premises monitoring.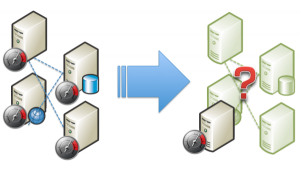 Note that in virtual environments, traditional APM tools that rely on host-based instrumentation are affected by hypervisor activity. The hypervisor may assign low priority to a particular virtual machine, causing that application to appear slow, for example. Legacy APM tools also suffer from
clock skew
and imprecise or approximate time-based performance measurements because of the way the hypervisor schedules CPU time to virtual machines.
We've been working to get the message out that, in contrast to traditional APM, network-based APM offers deterministic performance metrics necessary for virtualized and cloud-enabled application environments. ExtraHop Networks CEO Jesse Rothstein recently wrote an article for Cloud Times titled What Will It Take to Migrate Business-Critical Apps to the Cloud? The article explains how network-based APM provides the crucial real-time performance metrics across physical and virtual environments.
Writing in Enterprise Systems Journal, ExtraHop Senior Product Manager Tanya Bragin takes a similar message to cloud service providers and customers. Network-based APM, she writes, can provide the transparency that mission-critical application owners need before adopting cloud computing services. Read more in the article, Trust in the Cloud Is All About Transparency.
We'd encourage you to download the white paper. And please let us know what you think about these articles and the white paper in the comments.