NOTE: ExtraHop no longer offers the NetworkTimeout.com service. These links now lead to our online interactive demo.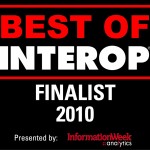 We just got some great news: ExtraHop Networks has been selected as a finalist for the Best of Interop awards, in the Best Network Management, Monitoring & Testing category.
If you're reading this blog, you're probably familiar with Interop (held this year in Las Vegas, April 25–29). But take a minute to look at the current nominees and past winners. We're proud to be in such good company--and we're eager to compete!
We'll be taking the wraps off Network Timeout at Interop, a new community website built by networking geeks (that's us) for networking geeks (that's you).
If you're headed to Interop this year, be sure to stop by our booth (#1275). We'll be giving demos of the ExtraHop system and Network Timeout, and we'll be giving away lots of free stuff--including a Nintendo Wii, a Flip Video camcorder, and a Kymera Magic Wand.