We just won not one but two Best of Interop Awards. First we beat out finalists Gigamon and Apposite Technologies in the Network Management, Monitoring and Testing category. Then a few minutes later we were selected as Best Startup Company. We're thrilled to have won!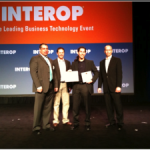 Here is a picture of Jesse with the judges on the Interop main stage holding our two newest awards!
Congratulations to all of the winners. Here is the official InformationWeek Analytics press release.