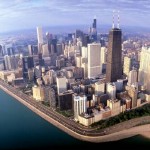 We're packing our bags now for next week's F5 Summit in Chicago. According to the local weather reports, it appears that we'll be greeted by "surging humidities," "clusters of thunderstorms," and "gusty downpour producers." The joys of Chicago in August!
It's all worth it, though, as we'll be joined at the Summit by several hundred F5 customers, partners, and staff, as well as exhibitors, including Microsoft, Oracle, VMware, and NetApp, to name but a few. The Summit will showcase some of the latest technologies that are helping shape the future of agile infrastructure.
Kicking things off on Monday morning is a welcome and F5 update keynote session with John McAdam, F5 President & CEO, and Dave Feringa, F5 VP of Sales, Americas. Check out the rest of the keynotes for some great topics and speakers. There will also be a cool event on Tuesday evening at The Field Museum where we'll meet Sue and then listen to Grammy Award Winning Bluesman Robert Cray.
F5 is, of course, where our founders Jesse and Raja made a name for themselves with the development of the BIG-IP v9 product. And now we're proud to count F5 as one of our key technology partners. To learn more about how the ExtraHop Application Delivery Assurance system can help optimize application delivery controllers, check out our Load Balancer/ADC solutions page.
And if you're planning to visit the Windy City for the F5 Summit, please make sure to drop by our booth.