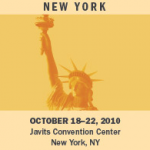 The Fall 2010 Interop IT Conference is taking place in New York, NY next week. ExtraHop co-founder and CEO, Jesse Rothstein, has been invited to reprise his role on the Advances in Network Management panel, moderated by Jim Metzler of Metzler & Associates. This panel was especially popular at the Spring show and includes executives from CA, Netscout, and Visual Network Systems. Here is a picture of Jesse in action from this past Spring. If you're coming to the show, be sure to check it out on Friday, October 22nd from 11:30 am to 12:30 pm in Room 1E08.
Meanwhile, back on the West Coast, ExtraHop co-founder Raja Mukerji will be speaking at the 4th annual NCA Security & Technology Conference being held at the Bellevue Hyatt Regency on Thursday, October 21st.
Raja will be featured on the 5 A's: Applications, Anyone, Anywhere, Anytime, who's Authorized panel, which will investigate the issue of everywhere applications and examine "how the enterprise is balancing the demands for greater access without compromising security, and identify which tools and technologies they're using to meet these fast evolving requirements." (Hint: the answer involves ExtraHop Networks!) This panel runs from 4:00 to 4:45 pm in the main ballroom.

Raja also has his own session, ExtraHop Networks: Ensuring that Business-Critical Transactions Do Not Fail, in which he will "explore new advances in real-time analysis technology for accelerated troubleshooting and proactive early warning." This session runs from 11:30 am to 12:00 pm in the breakout room. So no matter which coast you're on, we hope you'll come join us.