I'm constantly amazed at the amount of data we gather at any given moment. And most of the time, so are the customers.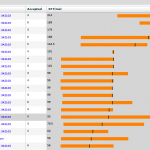 Case in point, we have this nifty chart that shows Round Trip Time (RTT) for all TCP connections, and you can sort them by clicking on the column heading. I remember at one customer site, during the Show-N-Tell, we pulled up this diagram and showed 3 clear bands of latency. Jesse said "Let me guess, this is North America" - customer nods "New Jersey data center"; pointing to the next group, Jesse goes "Trans-Atlantic?" - another nod "Amsterdam"; "Asia?" - "Singapore". The customer thought it was uncanny, I just thought it was fascinating.
2 weeks later, our Sales VP Tom attempts the same trick. We pull up another RTT chart at a different customer site, and Tom points to a band with 500+ms latency and volunteers this gem "Let me guess, trans-atlantic traffic?" Customer sighs, "No, that's our LAN, our network is just messed up." Oops.
Moral of the story? If you have Trans-atlantic latency on your LAN, it might be time to look into investing in an ExtraHop box.