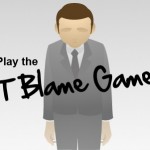 It's time for a little fun.
When something goes wrong with the network, or with an application, do you always get the blame?
When an app crashes, a server goes down, a database disappears, or squirrels eat the cords for dinner, it always seems to be your fault, doesn't it?
If you're tired of explaining, then let our Blame Generator come up with an explanation for you so you can get on with fixing things. (In spite of the fact that some of these blame stories seem down right ridiculous, they're all completely real, culled directly from the war stories the ExtraHop team experienced at various customer sites.) And if you think you have the best all time blame story yourself, send it over and you could be inducted into our Blamestorming Hall of Fame!