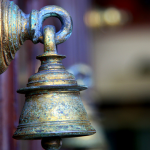 At ExtraHop, we celebrate success. Every customer win gets rung in, with our special bell, by the MVP for that deal. Today we announced $5.1M in Series A funding, led by Madrona, with participation from new investors, including internet pioneer Marc Andreessen and former Opsware CEO and HP Software SVP Ben Horowitz.
Who's the MVP this time? Our management? The development team? Sales team? It's all of the above. We did a series of press briefings yesterday in preparation for the news, and almost every one of them asked us "was it hard raising money in this climate?" The truth is, innovation happens in any economic cycle, and ExtraHop is really thriving, even in this economy. We focused on a major pain point - application and network performance management, delivered a compelling solution that help small teams do more with less and maximize their existing infrastructure investments. In addition, we guarantee rapid ROI with a 15 minute install and just minutes to visibility. The combination of all of these have helped ExtraHop achieve the success we've seen to date, as evidenced by a strong group of investors and a growing customer base.
Here's the full press release, and coverage from around the web.