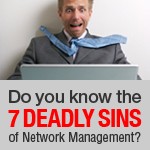 Well, do you? Here's a teaser, some choice quotes from other IT professionals:
"By avoiding Sin #1, we cut down troubleshooting time by 60% on the new application roll out"  - Dir. of App Support, Media Company
"By addressing Sin #6, we re-tuned our switching configuration and boosted performance by 80% for key apps" - Mgr, Network Ops, Logistics Company
"We took a harder look at Sin #7, and the hour we spent there saved us $1M in a new storage array that we no longer need to buy" - VP. Operations, Healthcare Provider
The truth is, networking technology has evolved tremendously in the last decade, while network management has been unable to keep pace and is woefully lacking in certain areas. The "old" way of doing things will miss lots of crucial stuff in our brave new world.
So join us for a 30-minute webinar to jointly explore the top 7 deficiencies of today's network
management approaches. Jesse Rothstein, CEO for ExtraHop and former chief architect for F5's BIG-IPv9 product will be outlining the potential impact to the business and discuss new breakthrough solutions to address these "sins".
Join us and walk away with:
an in-depth understanding of the common pitfalls of traditional network management techniques
best practices and new solutions for how to avoid them
tips for getting the most out of your existing infrastructure investments
Title: ExtraHop Webinar - The 7 Deadly Sins of Network Management Date: Thursday, February 26, 2009
Time: 10:00 AM - 10:30 AM PST
Space is limited. So reserve your seat now. And I promise, it's 30 minutes that will rock your world! :)