Description

Troubleshooting and tuning Sharepoint deployments is often challenging, because transactions for this popular off-the-shelf collaboration software span multiple tiers. Moreover, a single web request may generate multiple database requests, further complicating the problem of pinpointing the source of latency.
Luckily, there is a built-in GUID that tags all web-to-database transactions with a unique identifier. Using the power of AI triggers, ExtraHop can utilize the "recognize-and-trace" approach to calculate latency for each transaction and attribute it to either the web or the database tier.
The following diagram represents a typical Sharepoint setup and transaction flow:

ExtraHop analysis results in the following metrics and views, which easily answer such questions as:
Where is the overall latency, web or database tier?
Where is the latency for a specific URI, web or database tier?
If the database tier is slow, is it due to one slow request or many serialized requests? & Within each tier, is it the network transfer or server processing that is causing latency?
Latency in the HTTP and DB tiers of the Sharepoint Deployment

HTTP Component: Total time in the Sharepoint web tier
DB Component: Total time in the Sharepoint database tier
HTTP Component (URI detail): Web Request + Web Response for a specific URI
DB Component (URI detail): Sum of all DB Requests and DB Responses associated with a specific Web Request URI, based on the Sharepoint GUID.
Ratio of DB requests to HTTP Requests (fan-out factor)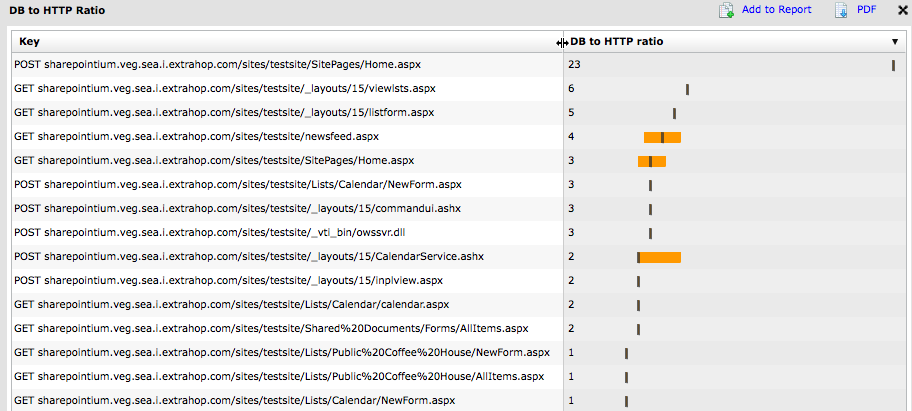 Specific DB Methods called at the database tier

Response Time Breakdown at every tier

Requirements
ExtraHop firmware version 3.8.16388 and newer.
To date, this analysis has been tested with Sharepoint 2013 and Sharepoint 2010.
Visibility into web/app and database Sharepoint traffic. Common pitfalls include:

Not specifying custom ports for Sharepoint database traffic, if applicable
Not configuring the span to send both database and web/app Sharepoint traffic to ExtraHop
If applying the bundle using the ECM, not configuring the ECM to see all the nodes that comprise the web/app and database traffic
Installation Instructions
See this video for a Sharepoint installation and troubleshooting example.
Download the bundle
Upload the bundle into the ExtraHop appliance using Settings >> Bundles >> Upload >> Upload From File
Apply the resulting ExtraHop Sharepoint Bundle in the bundle detail page
Triggers and pages are automatically assigned to all. To optimize this you can:
Assign the Sharepoint - HTTP Response trigger to the Sharepoint web/app server
Assign the Sharepoint - DB Request and Sharepoint - DB Response triggers to the Sharepoint database server (Note: Discovery Edition users should simply make sure triggers are Enabled as they are automatically assigned to all devices in that version.)
Assign the Sharepoint custom page to the Sharepoint application, once it appears in Applications